We've been bombarded, in the past couple of decades, by claims and assertions from bakers, healthy eating advocates and others telling us that eating the wrong kind of Bread will harm us. Some of the most ardent have even warned, "White Bread will kill you!" A new study says that just ain't so…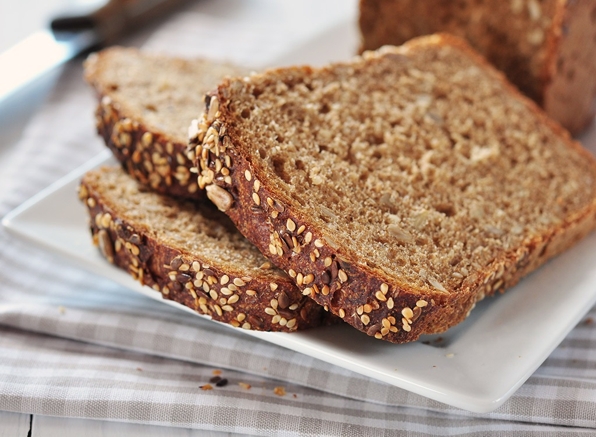 Artisinal Whole Grain Bread. No more nutritious then Plain White, study says.
The study, just published in CellPress, actually says that the results of exhaustive and carefully designed tests surprised the authors, going almost 180 degrees against their expectations at the outset.
Researchers fed one group of test subjects plain White Bread and another group artisanal Whole Wheat Sourdough Bread for one week, measuring every metabolic value they could think of that might be pertinent, then left the subjects to eat normally for a week. Then, they switched the White Bread group to Sourdough, and vice-versa, and repeated the one-week routine.
What they discovered…
The researchers sum up their findings in one sentence:
"In this study, we found no significant differences on a broad array of clinical parameters between two 1-week-long dietary interventions, one including consumption of industrial white bread made from refined wheat and the other consumption of sourdough-leavened bread made from whole grains using traditional methods."
"The initial finding, and this was very much contrary to our expectation, was that there were no clinically significant differences between the effects of these two types of bread on any of the parameters that we measured," says Eran Segal, of the Weizmann Institute of Science and one of the study's senior authors. "We looked at a number of markers, and there was no measurable difference in the effect that this type of dietary intervention had."
But that's not all…
They also found that different people react differently to different kings of Bread – or carbs, in general. In fact, some test subjects responded better to the White Bread than to the fancy, Whole Wheat Sourdough.The conclusion of the study states, there's more work needs to be done…
"Understanding the interpersonal variation in the effect of bread, one of the most-consumed staple foods, would allow the personalization of bread-related nutritional recommendations and optimization of food choices worldwide. More broadly, our study underlines the importance of personalization in dietary recommendations, as even the straightforward comparison of breads commonly considered "healthy" and "unhealthy" revealed personal effects […], suggesting that universal dietary recommendations may have limited efficacy."
In other words, Bread is Bread is Bread. Eat what you like best!
~ Maggie J.