Two very separate McDonald's promotions have caused massive comment – much of it negative – over the past two weeks. One involves backlash over special-edition 'rainbow' fry sleeves for Pride Week and the other revolves around a 'stoner-targeted' billboard for the chain's Breakfast Burritos…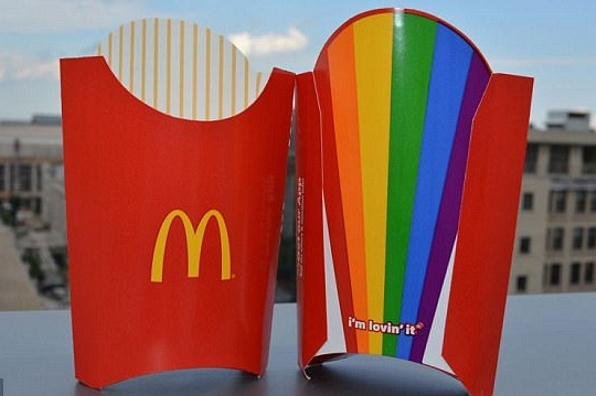 The McDonald's Rainbow Fries Sleeve: Available during CD Pride Week,
at McD's locations along the Pride Parade Route…
The First campaign, in which McDonald's jumped on board the Pride bandwagon and brought out special 'rainbow' fries sleeves in the Washington DC area, got some christian fundamentalists hot under the collar.
Evangelist and former pastor Joshua Feuerstein opened up with both barrels condemning McDonald's for the move on Facebook:
"DISGUSTING! McDonald's released their RAINBOW FRIES today in honor of GAY PRIDE! I'm tired of corporations trying to influence our families like this. SHARE THIS and let people know to STOP EATING at McDonalds! Plus, their food is crap. Really."
McDonald's came back with a statement of its own, delivered by Cathy Martin, co-chair of the McDonald's PRIDE Network and Vice President/General Manager of McDonald's Baltimore Washington Region:
""The rainbow fry boxes are a fun way to show our support of the LGBTQ community using one of McDonald's most iconic and recognizable items; however, these fry boxes are 'small potatoes' in the grand scheme of our commitment to this community. We are proud to honor and celebrate the LGBTQ community, including our employees, customers and beyond, each and every day."
From where we sit, it looks as though McDonald's won that round. In any case, they're not backing off.
Got the McMunchies?
A McDonald's in Raton, New Mexico is catering to folks from nearby Colorado, where marijuana is legal. The product, as we said earlier, is the chain's popular breakfast wrap. The message?
"Usually when you roll something this good, it's illegal!"
Okay… There may be some, vague resemblance between the Wrap on the billboard and a joint. But it's a far reach. The interesting part is, public response has been overwhelmingly positive, but McDonald's head office recoiled with horror when it learned of the local initiative and has ordered the billboard removed. So much for what one Internet poster celebrated as proof that a big chain can have a sense of humour…
~ Maggie J.