IKEA and KFC are going ahead with the launch of new Plant-Based menu items in the U.S. in spite of the ongoing – resurging – COVID-19 pandemic. It's a few drops of good news amidst a sea of depressing stories about the social and economic chaos associated with attempts to re-open the economy…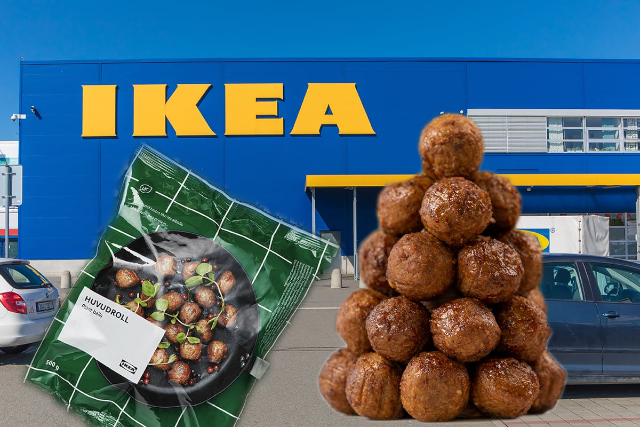 IKEA's new Plant-Based Swedish Meatballs: Coming to Europe
next month; North America September 28, 2020…
KFC expands Plant-based Chicken tests
After a series of closely controlled micro-campaigns to gauge consumer reaction to new Plant-Based menu items, Chicken Giant KFC is finally launching a new, large-scale test market of its much-hyped Beyond Fried Chicken products (see picture top of page) in a serious, 50-store test of the stuff in Los Angeles, Orange County, San Francisco and surrounding areas beginning this coming Monday, July 20.
The 'Nugget'-like faux-Chicken chunks will be available separately in 6- and 12- piece orders as well as in 6- and 12-piece combos accompanied by sides of KFC's new Secret Recipe Fries. Deals and à la carte orders will all come with a dipping sauce.
Building on earlier successes
The KFC test will build on earlier successes that began with a single-day, single-location test almost a year ago in Smyrna, GA, and continued with a broader release in Greater Atlanta this past February. If the earlier tests were any indication, the coming 'while supplies last' event won't last too long. So get out early and assuage your curiosity!
Just a year ago this past May, KFC's U.S. President of business Kevin Hochman disclosed he'd begun meeting 'reluctantly' with Plant-Bsed MEat substitute companies: "If you would have asked me six months ago [whether we were considering bring in Plant-Based products], I would have said no, to be completely honest with you, because we're about fried chicken." Sounds to this blogger as if the voice of the fans has spoken out overwhelmingly in favour of the move.
IKEA expands sales of Plant-Based Meatballs
The quirky, innovative knock-down-furniture store that took the world by storm and became a household name like Clorox and Kleenex a few decades back is now making some new waves in its food business with Plant-Based Swedish Meatball kits you'll be able to get at its European locations next month and in its North American locations starting at the end of September.
Starting from scratch
Unlike other companies that are developing or testing Plant-Based protein products, IKEA is running its own in-house development program, rather than collaborating with established Plant-Based Protein makers. The new IKEA Meatballs are reported to contain Yellow Pea Protein, Potatoes, Apples, Onions, Oats, Mushrooms, Tomatoes, and Roasted Veggie Powder. The result is claimed to deliver a texture and flavor comparable to the retailer's original Swedish meatballs.
The company says it will market the new product in bulk-bags in the IKEA grocery section as well as in plated combos at its in-store cafés, which will include Cream Sauce, Lingonberry Jam, Potatoes, and Veggies.
More than just offering a Veggie-based option
While IKEA has undertaken its Plant-Based Protein initiative at least in part to address growing consumer demand for non-Meat alternatives, it also says it expects to dramatically cut the overall climate footprint for the company's food division operations.
"If we were to convert about 20% of our meatball sales to plant balls that would mean around 8% reduction of our climate footprint for the food business at IKEA," explained Sharla Halvorson, Health & Sustainability Manager for IKEA's global food business.
My take
I think it's great that IKEA is not only offering a Veggie alternative for its flagship food product, but also addressing the need for action to move the world's food supply chain to a more sustainable model. KFC will no doubt be able to tout similar environmental successes as it phases in more Plant-based products in future.
But I also feel I must point out (again) that large-scale adoption of Plant-based foods by consumers will depend on two major trends in the habits and preferences of the masses: Plant-based Meat substitutes will have to be acceptable to the great majority of diners in terms of flavour, texture and appearance, and the price of Plant-based products will have to come down to levels that make it indisputably attractive for folks to switch from 'real Meat'.
~ Maggie J.