We've got a blend of news bites this week from a variety of Fast Food and Snacks purveyors – from feeding Beef, to adding Pork to slashing Chicken. Not to mention ploughsharing Cauliflower. On the Snacks front: M&Ms blows the lid of its traditional Candy concept…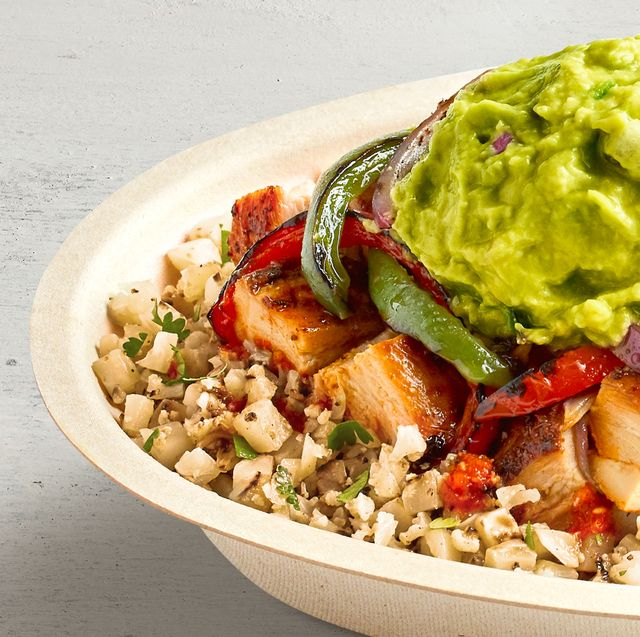 Chipotle's new Cauliflower Lime Rice…
Burger King tackles Beef's Greenhouse Gases
BK has begun test marketing new 'Reduced Methane Emissions Beef' as part of an overall program to make its Beef more environmentally responsible. About 65 percent of the Methane gas released into the environment now is attributable to the raising of Beef Cattle. It's a product of bovine digestion (see picture, top of page) and come out both ends of the cow depending what stage digestion of a given meal is at. The secret is Lemon Grass, a fairly common Asian Herb added to the Cattle feed. BK is also moving forward with Meat alternatives for its Burgers and already offers Impossible Burger Whoppers in the U.S, and Rebel Plant-based Whoppers in other countries.
Subway introduces BBQ Rib Sandwich
You look inside the new Subway BBQ Rib sandwich and see – what looks like a clone of the old McDonald's McRib. And you wonder if the Subway version will be as controversial. MD's fans either loved or hated the McRib, but it was loved enough by a significant fraction of McFaithful that it's been brought back several times since for a limited time. The New Sammy starts with whatever Bread you want lined with those familiar Rib-shaped Pork Patties, and topped with whatever sauce you want (Sweet BBQ is traditional) and your choice of veggies. For a limited time…
Taco Bell to slash menu
The Bell previously promised it was looking at cutting down its regular menu considerably to streamline operations, lower costs and focus more tightly on its original Tex-Mex core identity. Scheduled to vanish by August 13 are: the Grilled Steak Soft Taco, the 7-Layer Burrito, Nachos Supreme, the Beefy Fritos Burrito, the Spicy Tostada, Triple Layer Nachos, the Spicy Potato Soft Taco, Cheesy Fiesta Potatoes, Loaded Grillers (Cheesy Potato, Beefy Nacho), Chips & Dips, and the Mini Skillet Bowls on the breakfast menu.
"This evolved menu approach comes after months of analyzing the new way we are running our restaurants," Bell execs wrote in a statement. "With safety top of mind, we want to ensure an easy and fast ordering experience for our guests and team members."
Chipotle's tests Cauliflower 'Rice'
Chipotle's has confirmed it will test a new Cauliflower Rice dish at selected locations across the U.S. The Grain alternative is meant to appeal to adherents of the Vegan, Paleo, Keto, and Whole30 diets. It's based on Grilled Cauliflower and dressed with Fresh Lime Juice, Chopped Cilantro and a little Salt. While it may sound odd that a resto chain that's been paring down its menus and sharpening its focus on it original core Tex-Mex thrust, Chipotle's Chief Marketing Officer Chris Brandt says Cauliflower Rice was the most-requested most-requested new menu item in a recent customer survey.
Lays launches new Nashville Hot Potato Chips
The new flavour seems late-to-the-party to me (and some other food bloggers), but it's still being welcomed with open arms. It's actually the flagship of a new line of 'Flavour Icons' Chip varieties which also includes: Carnitas Street Tacos (inspired by El Torito), Philly Cheesesteak (inspired by Geno's Steaks), New York Style Pizza (inspired by Grimaldi's), Chile Relleno (inspired by Cocina Azul). Lays has long boasted a reputation as the Chip maker who blasts out more (limited time) flavours than any other and it seems like it's been months since the brand offered us something new. Actually, it's only been a few weeks, but in the Summer of COVID-19, where boredom reigns supreme, and time just keeps dragging on, like it does in the Johnny Cash classic, Folsm Prison Blues…
M&Ms blows the lid off its concept
There's a truly-new concept in M&Ms coming soon to a Candy source near you: Popcorn M&Ms. And by that, they mean M&Ms made by blending the Candy's traditional Chocolate filling with Crispy Rice pieces (n o actual Corn is used) and coating them with that famous 'melts-in-your-mouth-not-in-your-hand' shell. While the package promos them as supporting M&M's role as an official sponsor of the NFL, the launch news release plays up other angles. They make an ideal upgrade for your fave flavour of Movie Night Popcorn, and can be used in a variety of roles as Baking Additions and Dessert Toppings. Have fun!
And that's the skinny…
… On what has the potential to make some of us fatter over the days and weeks to come. See you back here in seven for an new edition of Fast Food Week!
~ Maggie J.