The 'burger mains' lane on the grab-and-go highway this week features returning faves – now more the rule than the exception. There's also some intriguing stuff from Pringles, El Pollo Loco and, McDonald's…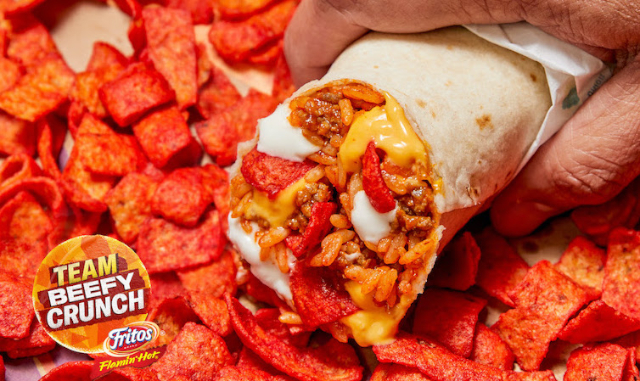 The Beefy Crunch Burrito came out the winner in the recent
Taco Bell fan contest to see which former entrée dish
would come back for a limited time this summer…
White Castle celebrates roots
The long-lauded The 1921 Slider with Ghost Pepper Cheese makes a limited-time return to the White Castle menu through June 18, 2023, while supplies last. What's new this time 'round in the rotation is the Ghost Pepper Cheese, which is available now while supplies last. Special Note: you can have it added to any WC Slider on the regular menu. The 1921 Slider is so-named for the first White Castle burger on the menu when the chain opened its doors in 1921.
Taco Bell brings back Beefy Crunch Burrito…
Remember a few weeks, when Taco Bell announced a 'flash' contest asking fans to vote on which of 2 previous products to bring back for summer? You could choose the Beefy Crunch Burrito or Cool Ranch Doritos Locos Tacos. And the winner is… the Beefy Crunch Burrito! Coming back this August, for a limited time only.
El Pollo Loco brings back Beef Birria
Remember the short-lived Beef Birra enchanment last year? EPL is bringing back its version in for a limited time, in a taco, a grilled burrito, and a quesadilla.
Choose one of the three combo options each of which includes one of the Birra entrées in a specially-designed carrier box with Consomé Dipping Sauce and a side of tortilla chips.
Pringles, Minecraft partner on new Suspiciouis Stew
It's a potato Chip flavour, of course, not areal stew. But feel free to eat them out of a bowl is you want to. As you've probably guessed, the flavour is inspired by a food from the Minecraft universe. Pringles describes it as, "a burst of rich, hearty, and savory flavor." Available now through July 31, at the usual retail locations. and check out the Minecraft promo at KelloggMinecraftPromo.com where you can cash in your reciepts for the new chips in return 350 Minecoins to use in Minecraft.
Krispy Kreme partners with OREOs, Chips Ahoy
Krispy Kreme is partnering with OREOs and Chips Ahoy! to offer the new Cookie Blast collection – its 'most decadent indulgence' yet.
Choose from:
the Chips Ahoy Candy Blasts Doughnut;
the Chips Ahoy Cookie Dough Kreme Doughnut;
the Oreo Cookies & Kreme Filled Doughnut…
the Oreo Chips Ahoy Cookie Blast Doughnut
Get 'em in the special dozen pack, now through May 7.
McDonald's tests Cold Brew Coffees
The Burger Giant who challenged Starbuck's in the high-end Coffee niche is now playing catch up, test-marketing cold brew selections in southern California. Two new cold brew treats were unveiled at McCafé this past week to celebrate National Cold Brew Day this past Monday. Many McCompetitors have already added Cold Brew but the fact that McD's has taken the plunge is an indication that Cold Brew is no longer considered a mere fad.
… Releases Big Mac Sauce à la carte
Hardcore McD's fans have been asking for this for years. Now it's Finally come to pass. McD's has released legendary Big Mac Sauce in dunking tubs by itself so you can put on as much as you want on whatever you want. Alas, it's only available to McFans who order using the mobile app on or after April 21. Another great sacrificed on the promotional alter of the mobile app. McD's really, really wants its fans to take up the mobile app for remote order/pay, to support its new streamlined business model…
And that's the skinny…
… On what's going to be making some of us a little fatter this coming spring and summer. See you back here in 7 for he next edition of Fast Food Week!
Maggie J.