If you thought the increases in chocolate prices over the past couple of years were harsh, brace yourself for another jolt in the next year or two. Widespread droughts in Ivory Coast and Indonesia – major producers of Cocoa – has caused major crop losses which will lead to severe shortages…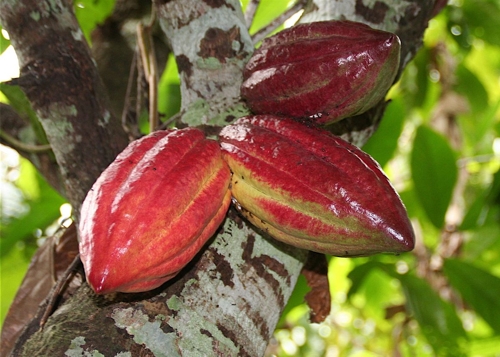 Your Chocolate Fix starts here: In a pod, on a tree in the tropics…
It appears that the world will be facing the worst Cocoa shortage since the 1980s by the end of this year. By 2020, when the shortages are expected to peak, the stuff could cost several times what it does today, market analysts predict. That's bad news for Chocolate lovers and many of the world's 6 million Cocoa growers.
If Cocoa prices go too high, folks will assuage their sweet tooth with some other decadent comestible. If the weather and the market both go bad, many of those Cocoa farmers will be without a living.
But there's hope…
Scientists are pushing efforts to develop a new breed of Cocoa that withstands bad weather, offers increased yields and may even taste better than the stuff we're used to.
And there's interest in growing Cocoa in non-traditional areas, such as Brazil, Ecuador and Colombia – regions where Cocoa used to be a big crop but faded in popularity as farmers started changing over to Coffee which, way back when, was much more profitable.
For the time being, though, we're doomed to higher Cocoa prices and, by association, even higher Chocolate prices. Personally, my sweet tooth and I are experimenting with Gummy products and a range of savoury snacks.
Stay tuned…
~ Maggie J.