We've been following the recently-shaky fortunes of McDonald's in the face of aggressive competition from other fast food sector players. We recently reported that the All-Day Breakfast has gone over big and a plan to update 'Value' menu choices is testing well in the U.S.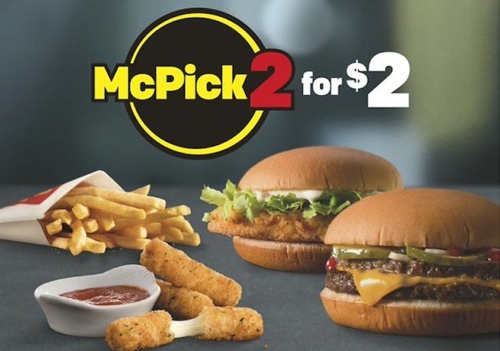 The new 'McPick 2' value menu. Will it fly in all corners of the McDonald's map?
The key issues…
Business Insider reports that McDonald's says it has addressed two of its customers biggest issues and customers are apparently lovin' it.
The first issue involved the popular McDonald's breakfast menu. Customers wanted to be able to order it all day. But McD's demurred at first, saying it was impossible to configure the grills and other equipment to do both burgers and breakfasts at the same time. But they adapted, adding small dedicated grills for the most popular breakfast items which could be used all day without disrupting Burger production. McD's employees say it's a pain to prepare breakfast all day in the midst of dealing with the main menu. But they're adapting, too.
The second issue involved the the once-popular 'Value Menu'. It was originally offered with a price ceiling of a dollar and was much loved, especially among snackers and folks with the munchies (rather than those craving a big meal). Trouble was, the deal morphed into 'A Dollar And More' with combos topping out around (US)$5. Diners decided the deal was a deal no longer. So, McD's is tested McPick 2′, in which folks could choose a number of 2-item combos – any two of a McDouble, a McChicken, small fries, or mozzarella sticks for (US)$2 (probably (C)$2.50). Another possible configuration for the 'McPic 2' deal would be priced at (US)$5 (probably (C)$6). Diners could choose any two of a Big Mac, a 10-piece Chicken McNuggets, a Filet-O-Fish sandwich, and a Quarter Pounder with cheese.
The results…
McDonald's overall sales rose over 6 per cent following the institution of All-Day Breakfast and the McPick 2 pilot project. Will this be enough, along with the new menu and service approach débuting this summer in St. Joe, MO, to put the original fast-service Burger joint back in the lead in its market niche?
We'll see…
~ Maggie J.