We recently heard about Queen Elizabeth II's pancake recipe, and before that, her scone recipe. Sometime further back, we learned about her beloved Birthday Cake… Now, we have a recipe for The Queen's Scrambled Eggs…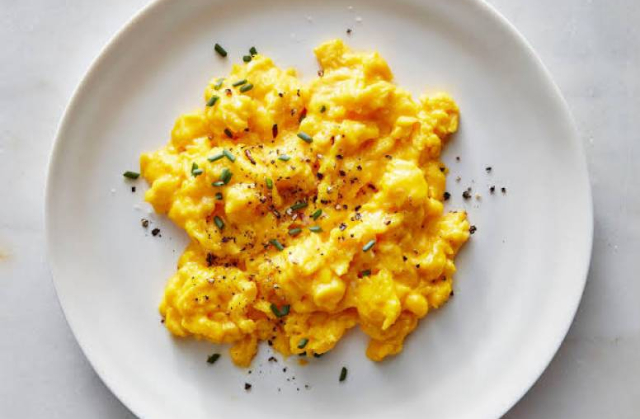 Just on the creamy side of crumbly: Garnished with
fresh-cracked Black Pepper and chopped Chives…
A former chef who served the late Queen released the recipe for her personal scrambled eggs shortly after her majesty passed away. They were apparently a big hit with visiting dignitaries and her family alike. Now we have another royal breakfast fave as released by another former royal chef…
Via a third party
The recipe was released a few days ago by Australian super-chef / influencer Lee Holmes. She will only say she got it, from, "one of her one of my lovely friend[s who] was fortunate enough cook for the Queen, and [who] shared with [Holmes] a recipe for her favourite Scrambled Eggs."
That sort of highly respectful reticence has long been a tradition in referring to personal chats with the monarch, which are by tradition, not publicly discussed. But after they're gone… I guess anything goes.
Here's the recipe
Ingredients
3 organic (brown) eggs
1 tablespoon milk
Sea salt, to taste
1 tablespoon butter (or you can use extra-virgin olive oil)
1 teaspoon finely grated lemon zest
Pinch ground nutmeg
freshly cracked black pepper, to taste
snipped chives and kippers to serve (optional)
Method
Whisk the eggs and milk in a bowl until well combined. Add salt to taste.
Heat the butter or olive oil in a small frying pan over low–medium heat. Add the eggs and turn the heat down to low, moving them around the pan slowly with a spatula so they don't stick to the bottom.
Just before they are starting to set, add the lemon zest, nutmeg and extra salt, if desired and stir.
Serve immediately, garnished with pepper and chives, if using.
Serves 2.
Notes…
The recipe calls for organic eggs. Eggs are eggs; even the most expert tasters can't tell the difference in flavour (if there is, in fact any) between organic and regular eggs. But if you ijnsist your eggs have been raised in the most responsible and sustainable way, be my guest.
Ditto, brown eggs vs. white. The only difference in nutrition and flavour between brown eggs and regular white ones comes when the eggs start to get stale – or the hens they come from have been fed special diets to make the colour of the eggs their yolks extra saturated.
That small amount of milk specified in HM recipe could be switched out in favour of something stonger. My dear old Dad (rest his soul) insisted that Mom always have 18 percent 'Cereal Cream' on hand for his morning Bran Buds or Shreddies. Also his morning coffee. And, of course, for his scrambled eggs recipe. I acquired his mildly obscure taste for the richer stuff, back when it was a small extra cost (in the 1960s). Alas, any kind of 'Cream' for such mundane daily uses is now a unconscionable cost indulgence.
My take
This recipe appears to produce a minimally-crumbled style of scramble. But that's okay. I've dined on scrambled eggs in another parts of the world where the term 'scramble' seems yo apply only to the fact that yolks are pierced and stirred into the whites before gentle frying / steaming at very low temperature.
I also want to try the lemon zest and and nutmeg additions at my earliest convenience. That will be the next time I prepare scrambled eggs for the whole family on a Sunday morning. Maybe not this coming weekend, maybe not the next one, but soon… And, if the additions merit a wholesale change in my personal scrambled eggs recipe – make it so!
One note: Like the other recipes mentioned in this post (the scones and pancakes) these eggs are simple to prep and require relatively few ingredients. Bravo! Accessible to all the late Queen's beloved subjects; another tie for them to her memory and legend.
~ Maggie J.