Surprising, that someone hadn't already thought of a sauce blender. But, then again, someone else might already have built it if there had been enough consumer clamor or competitive advantage to having one. REMIX could revolutionize saucing…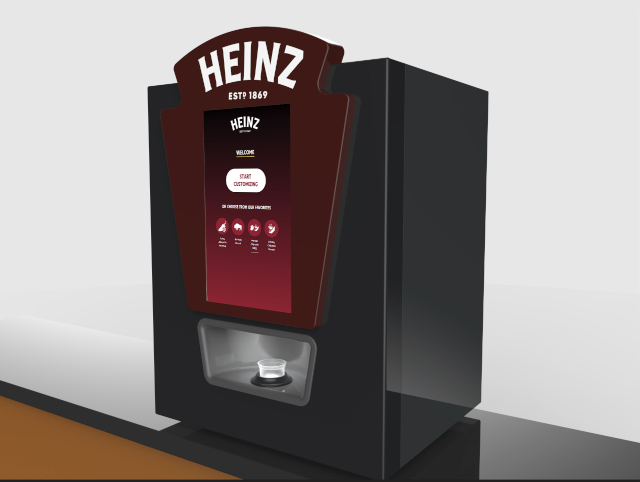 I skimmed over this new 'invention' from sauce and dressing kings Kraft and Heinz in yesterday's Fast Food Week post. The device is specially designed for the fast food environment, especially the new business model version, where fewer humans are available to respond to customer requests. But will the pros outweigh the cons?
The skinny
Heinz and Kraft are in business to sell sauces. And they already make a fair good buck supplying major commercial users with common and custom sauces and salad dressings.
But they – like other industry observers – have noticed that many Fast Food aficionados like to blend packaged sauces to make enhanced and personal fave combos. So now they've devised a dispenser that will allow burger lovers to formulate truly esoteric sauces from combinations of already-popular starter types and dozens of possible additions.
Enter, REMIX
The Kraft Heinz REMIX is a countertop fridge-sized almost featureless box than can mix some 200 lets you blend and personalize over 200 sauces to create your own unique flavor. It's potentially Internet-enabled, and features a front-mounted touch-screen ordering interface.
First, you to select from HEINZ Ketchup, Ranch, 57 Sauce, or BBQ Sauce as a base. Next, you can add an 'enhancer' — Jalapeño, Smoky Chipotle, Buffalo, and Mango are the current options available. Each can be adjusted to your own desired intensity level (low, medium, or high).
High hopes
The Kraft Heinz people appear to have pretty high hopes for their new sauce concept. They're even using terminology like 'making bets' to describe their approach to attracting the attention of consumers.
According to the official news release: "As a company, we're transforming through innovation by making bigger, more intentional bets to fuel our growth and create new experiences for consumers," Alan Kleinerman, Vice President of Disruption, Kraft Heinz said. "HEINZ REMIX is a great example of this consumer-first approach to innovation.
"We're changing the game for foodservice operators and sauce lovers – dipping will never be the same. With HEINZ REMIX, it's more than a sauce dispenser; it's an insights engine and business model enabler that will help Kraft Heinz understand and respond to consumer trends and flavor preferences in real-time. Who knows – maybe our next new sauce combination will come from a superfan using HEINZ REMIX!"
My take
First, I wonder now many fast food joints will have the space and the logistical wherewithal to fit a REMIX machine into their new, streamlined, compressed, vehicle-oriented business models. I'll be interested to see how the new machine is shoehorned in. Maybe they'll create an interface for your phone that will let you order your custom sauce the way you order the rest of your meal.
Second, Wonder whether folks who currently use manufacturers other than Kraft Heinz to provide their custom sauces and dressings will react to having a KH brand-specific machine on their counters. Or maybe, like the pod-based coffee makers, other sauce and dressing makers will introduce REMIX compatible refills to adapt themselves to the KH hardware.
Third, I predict that the REMIX will inherit the undesirable mantles of 'hardest to clean' and 'most neglected dispenser' in the burger joint environment from the current long-term title holder: the soft serve ice cream machine. Just watch. Fast Food store staff may actually come to hate REMIX even more than they currently do soft serve.
Fourth, I predict that the REMIX will either be a huge hit or (more likely) a huge boondoggle for KH. Like most other new and groundbreaking concepts, there will likely be no middle ground.
Fifth, and on the up side, I predict that diners will love the REMIX. But they might also spend a little too much time hanging around it. Like employees around the water cooler in the old pre-COVID office concept.
Muse on that…
~ Maggie J.