Restaurants in China and the U.S. that have relied on sexist themes to draw customers are finding that the idea doesn't fly in today's high-minded society. And, oddly enough, both establishments have relied on appeals to the marketplace focused specifically on female pectoral attributes. It's about time…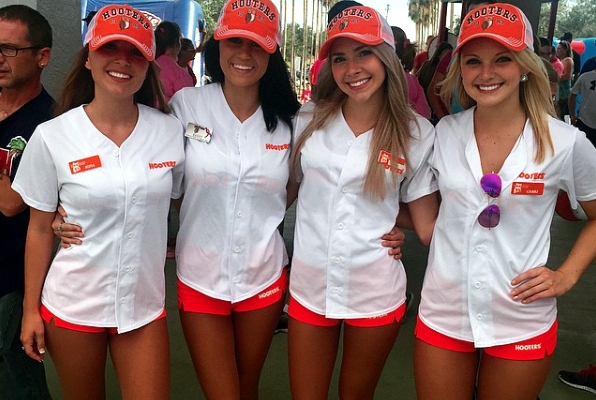 Some Hooters locations opted for very modest baseball jerseys. Others went for toned-down scoop-necked tees. Still others opted for football jerseys and others for crop tops.
No matter how modestly portrayed, 'boobs' are passé.
I was of two minds about reporting on an overtly sexist – downright exploitative and demeaning, in fact – marketing campaign by a Japanese restaurant called Trendy Shrimp, in  which it offered discounts to female customers based on their bra size. The Qianjiang, China, eatery put up a huge poster in its front window advertising discounts of up to 65 per cent off regular prices for women, according to their cup size. The stunt co-opted female figures from a popular online game, League of Legends, to illustrate the discount schedule. Reviews have been mixed. Some patrons told The Qianjiang Evening Post they thought it was just 'good fun'. Many others called the promotion 'insulting, vulgar, and immoral'.
Trendy Shrimp has since withdrawn the promotion. I guess they got the attention they were looking for. But they gave in to overwhelming public opinion.
On the other side of the world…
Hooters, the restaurant named for a slang term some folks used to use to refer to women's breasts, had found that its long-running sexist-themed marketing approach has just about run its course.
The chain, which has been around for decades, has had its ups and downs, based on the prevailing reaction to its name and theme at different times. But, recently, the restos changed their look and approach, emphasizing their familiar Owl logo and de-emphasizing the physical  attributes of their servers. In fact, Hooters servers now wear relatively modest scoop-necked t-shirts.
But it seems that the stigma of Hooters' original marketing thrust lingers. The chain has had to close a number of stores in the past several years, even as the new look was being phased in.
Research on search engine statistics shows that men are 32 per cent more likely than women to search for 'breast'-related information. And the breakdown by age isn't what you'd expect. Apparently, 'young' men, aged 18 to 34, are less likely than older men to submit 'breast' search terms to the popular engines, while 'older' men, aged 55 and up, are more considerably likely than their younger counterparts to indulge in 'breast' searches.
What does it all mean?
In a nutshell, it seems 'boobs' are passé – whether you look at Hooters' sales or search engine statistics. Millennials are not impressed by brands that use them for promotional purposes. And it's the younger people that go out and spend money at restos and bars. So, it's no surprise Hooters is losing market share and the Chinese resto that offered those disgusting discounts was hooted down by folks who disapproved of the stunt.
The world is growing up and moving on. Hoorah!
~ Maggie J.