Just a squib about a really good prank a French scientist pulled on his colleagues and the public recently. The underlying motive for the gag was apparently to deflate some of the mega-hype surrounding the new James Webb Space Telescope…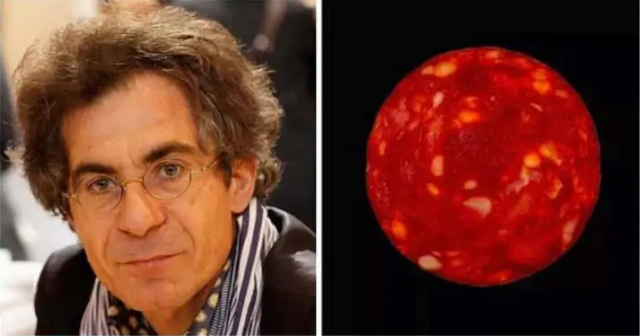 Dr. Etienne Klein, left, and the image of, 'Proxima Chorizo', right.
Etienne Klein (@EtienneKlein), an eminent physicist and director of France's Alternative Energies and Atomic Energy Commission, tweeted what he claimed was a photo from the Webb  telescope of Proxima Centauri, the closest star to our Sun at a distance of just 4.2 light years.
"This level of detail…" he tweeted. "A new world is unveiled everyday." That was July 31.
Went viral
The online world went nuts over the fantastically detailed, amazingly authentic looking photo. Nobody suspected a thing. Klein later admitted he felt a little guilty that he may have forged his 'space' photo a little too well. After a few days he confessed publicly to the hoax.
"In view of some comments, I feel compelled to clarify that this tweet showing an alleged snapshot of Proxima Centauri was a form of amusement. Let us learn to be wary of arguments from authority as much as of the spontaneous eloquence of certain images," Klein tweeted August 1. "I come to present my apologies to those whom my hoax, which had nothing original about it, may have shocked."
But then, another revelation
Seems the 'star' photo Klein posted wasn't even a new creation, or his at all. A commenter to his apology tweet revealed, "This joke is old, made during the lunar eclipse of July 27, 2018." Fool me once, shame on you, fool me twice…
Klein also waxed jovial in the aftermath of his unmasking: "No item belonging to […] Spanish charcuterie exists anywhere but on Earth".
Atonement?
Klein had tweeted other, authentic photos from the Webb Telescope before the sausage hoax. That made his 'Proxima Chorizo' tweet all the more plausible to followers. Since the hoax, he's posted further real space images including an engrossing shot of the so-called Cartwheel Galaxy:
The moral of the story
The message hasn't changed since the rebellious youth of this faded flower child. "Question Authority!"
~ Maggie J.