Kraft Singles American (Processed) Cheese slices have been around for decades. More recently (though still for decades) they've come individually wrapped in plastic. But only recently has Kraft recalled tons of Singles over concerns the plastic poses a choking hazard…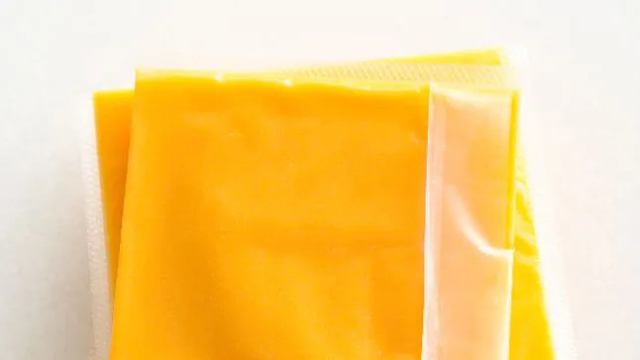 Kraft Singles: No, they don't stick together. Yes, you have to be careful when you peel them!
What's going on?
Kraft is voluntarily recalling 83,000 cases of Kraft Singles, "…as a precaution after a temporary issue developed on one of our wrapping machines, making it possible that a thin strip of the individual film may remain on the slice after the wrapper has been removed," Kraft explained in a statement. The company took action following, "several consumer complaints," and as six complaints from consumers who claimed they, "choked or gagged in connection with the issue." No serious injuries have been reported.
The recall was originally announced back on September 19, but we've only just learned of it. Perhaps if it has been government-ordered rather than voluntary, it would have stirred up more immediate media attention earlier.
"Products affected include: "16 oz. Kraft Singles American Pasteurized Prepared Cheese Product with an individual package UPC of 0 2100061526 with a 'Best When Used By' date of 10 JAN 24 through 27 JAN 24," and, "3 lb. multipacks of Kraft Singles American Pasteurized Prepared Cheese Product with a carton UPC of 0 2100060491 3 and a 'Best When Used By' of 09 JAN 2024 through 13 JAN 2024 and 16 JAN 2024."
A little history…
I am one of two people who witnessed what may have been the first-ever Kraft Singles choking incident – 45 years ago!
I was a bright, eager young radio reporter and newscaster in a small town on the north shore of Lake Ontario, half way between Toronto and Montreal. The place was almost entirely supported economically by tourism and agriculture. Not much drama there, at the best of times. But…
A colleague and I were having lunch one day at a burger-themed sit-down resto in the mini mall next door to the radio station. My companion ordered the signature Cheeseburger. I ordered the Turkey Club.
When the food came, we dug in with gusto. We had both been on duty since 5 that morning, working the 'wake-up' shift. I paused for a sip of my draft beer and noticed a look on my pal's face that remains, to this day, indescribable.
He was holding in one hand his burger and in the other a still-wrapped Kraft Single! Granted, it was a busy lunch shift. And it turned out that the cook, drowing in orders, had forgotten to peel the slice before putting it on the patty.
My friend didn't actually choke on the plastic. But he just about choked on the surprise!
My take
Okay. That historic choking episode wasn't exactly the same, in the details, as the one over which Kraft is now recalling Singles. But I couldn't help but re-tell the story in the present context!
As is usual in these situations, government regulators have issued the following statement: "Consumers who purchased the products are asked to either discard them or return them to the store where they purchased them for an exchange or refund. People who have questions can contact Kraft directly at 1-800-280-8252."
Now, let's get on with our regular lives, again…
~ Maggie J.