It made a fairly quiet début earlier this year, but has since taken Foodieland by storm. What's the big deal about Sweet-Spicy? Is it really as amazing a thing as its Foodie boosters claim? How can we average, home cooks use it in our daily culinary endeavors?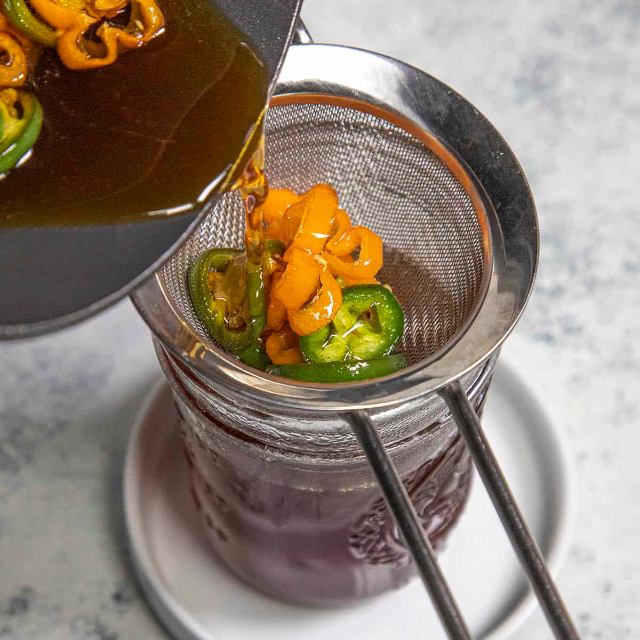 Sweet-Spicy Honey by Mike @ chilipeppermadness.com. Save the candied pepper
pieces and add them to all kinds of dishes where a dash of sweet
or spice will kick up the flavour profile a little!
What it is…
Sweet-Spicy, or Hot Honey is essentially just honey infused with chili peppers. Most recipes also want you to add a little acid, in the form of apple juice or some kind of vinegar.
Mike at chilipeppermadness.com is an acknowledged expert on the stuff. His recipe is about as simple as they come:
What you need
1 cup / 250 ml Honey of your choice
Chili peppers of your choice, in the volume of your choice
1/4 cup / 60 ml Apple Cider vinegar (if you elect to use it)
What you do
Melt honey (if in solid form) in a small frying pan, over low heat. Do NOT let the honey boil!
Add the peppers and simmer for another 1-2 minutes to infuse.
If desired, add the vinegar and stir in.
Strain into a mason jar to eliminate any large pepper solids or seeds. Store at room temp for up to 3 months.
Honey questions
You can use any honey you want. (And any kind of chili peppers or blends you want. See 'Pepper Questions', below.)
As contemporary consumers, we're most familiar with Clover Honey. Here are some other suggestions I'll be trying:
Buckwheat – dark colour, strong and earthy.
Orange Blossom – light colour, floral and citrusy
Apple Blossom – light colour, floral, fruity
Canola – light colour, mild-buttery
Taylor your chili type and strength to your honey choice.
Pepper questions
What a wide world of chili peppers there is to choose from! Makes sense to try the kind and strength of peppers you already prefer in the honey recipe before branching out.
It's entirely up to you how much pepper you add. Taylor your Sweet-Spicy blend to your personal taste! (Hint: There's no shame in going 'mild'.)
Mike says you can add dried chilis, fresh ones or chili powder to spice up your honey blend. But don't forget viable alternatives such as Thai Chili Paste and the almost infinite list of spice masalas (traditional blends) from Asia and India.
Tips
Honey is self-preserving. But after it's been infused with peppers it won't last forever. Make only as much Sweet-Spicy honey as you can use over a week or so.
You can adjust your Sweet-Spicy honey simply by adding more honey or chili.
If you use fresh chilis, (recommended) save the candied pepper pieces after straining. Add them to all kinds of dishes where a dash of sweet or spice will kick up the flavour profile a little!
Honey is often used to moderate the burning edge of hot peppers if you've used too much heat in a dish. This suggests to me that Sweet-Spicy honey may be a perfectly balanced ingredient, with all the pepper flavour and minimum unwanted biting edge.
Where can you use it?
'Hot Honey' has generally been used commercially as a condiment on deep-fried chicken breast fillets starring in various Fast Food chains' Chicken Breast Sandwiches. But that's just a drop in the Sweet-Spicy ocean!
My first impulse was to put Granny Annie's (Dad's Mom's) candied carrots back on my Christmas Dinner menu – candied with Sweet-Spicy honey!
Then I wondered how the stuff would taste over rich, creamy plain vanilla ice cream.
A little dab will do you on corn bread, soda biscuits, pancakes or waffles.
I can think of all kinds uses for Sweet-Spicy honey in Middle Eastern, Indian and Asian dishes…
Try a drop or three in a cup of plain hot or iced tea.
Employ it as a glaze on baked ham, a holiday turkey or even a leg of lamb.
And use Sweet-Spicy Honey – with chopped candied pepper pieces! – to make an exotic caramel corn.
Got your imaginations percolating?
Now, go make yourself some Sweet-Spicy Honey. You've probably got everything you need in the house already. Play with the levels of Sweet and Chili. And try it on anything you think could be kicked up a notch by this great flavour combo!
~ Maggie J.