The Great Canadian Fairs are preparing to open their gates for the annual end-of-summer celebration that all Canuck Kids treasure as part of their carefree youth. And one of the biggest things for kids at the Fairs is always the Food stalls! This year, CNE vendors are breaking new ground…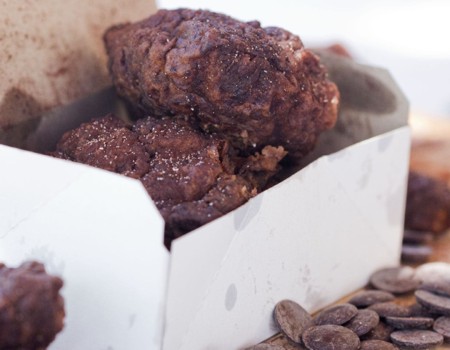 Here it is: The hottest fad-food item (at least in the minds of media reviewers)
at this year's CNE. The Chocolate Fried Chicken fad first appeared a few
months ago on the West Coast in the U.S. and has had remarkable
staying power, according to foodie observers.
The Canadian National Exhibition (CNE) is days away from opening at its scenic lakeside Exhibition Place venue. Last touches are being placed on the Midway, which this year includes an extreme zipline ride. The banners are up and all the old buildings have their traditional new coat of paint. Most important, though. There's a record number of food vendors participating and they appear to be trying to out-do one-another in the Menu madness department!
What's new this year…
Well, the Chocolate Fried Chicken offered by one intrepid eatery may just take fist place in the Creative Craziness category (if there was one). It's regular Chicken parts 'brined' (according to the purveyor) in a Chocolate sauce and deep fried. It's then dusted with a Chocolate garnish (Cocoa?) and served with a side of 'Chocolate Ketchup'. I'm thinking the best way to go with the Ketchup would be a sort of Ballpark Molé – not too sweet and just a touch of Chili Pepper.
We'll wait for Fair goers to weigh in.
Which brings me to the core of this post…
You really should view the Global TV Network's extended look at the wild and crazy culinary developments at this Year's CNE!
Spoiler Alert: The young presenter does NOT back down, either from tasting the Chicken or riding the zipline!
And don't forget to look into the new food handling and sanitation measures the CNE is enforcing this year, following last year's Cronut Burger fiasco, in which more than 200 people got food poisoning from just one off-the-wall food item…
The Morals to this story…
Be glad the funky food is here!
…And (for your system's sake) be glad it's only once a year!
The CNE opens for the season tomorrow!
~ Maggie J.