The Guinness people will certify almost anything as a World Record, giving almost anyone the chance to come up with a wild-and-crazy idea that could bring their eatery or brand some high-profile free publicity. This week, we learned of a celebrity-backed effort on the Party Dip front…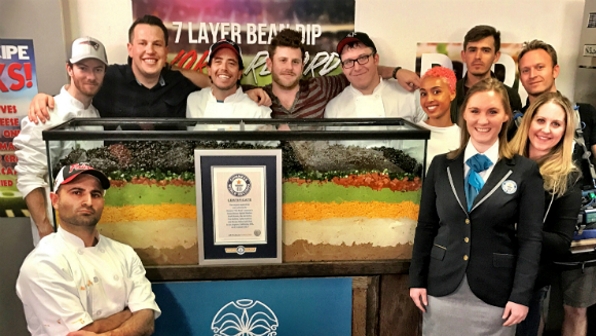 The whole Seven Bucks Studios Dip Team. And the young lady from Guinness…
Dwayne 'The Rock' Johnson – former WWF wrestler and, more recently, star of the Fast and Furious movie franchise – has his own production house: Seven Bucks Digital Studios. And the guys and gals there have several Guinness World Records to their credit. This week, they added another. They built the world's biggest Seven-Layer Party Dip. It out-did the previous record of 440.925 lb. / 200 kg by 100 lb. / 45.5 kg.
The monster dip was made of 153.6 lb. / 70 kg of Refried Beans, 76.8 qts. / L of Sour Cream, 9.6 lb. / 4.6 kg of Seasoning, 76.8 lb. / 35 kg of Cheese, 38.5 qts. / L of Guacamole, 38.4 qts. / L of Tomatoes, 19.2 qts. / L of Green Onion, and 37.2 qts. / L of Black Olives. They built it in a 100 gal. / 400 L tropical fish tank (see photo above). Took seven people 5 hours to create the thing.
The Rocks team has another Guinness Records to his personal credit: He took 105 selfies in under three minutes with fans at the opening of his mega-bomb movie San Andreas, in London, UK.
Good question…
My dear, stoic, objective sister Erin asked, on hearing of my topic for today's post: "And why do wee need this?" I guess the point is, we don't. And I'd have heartily agreed if the stunt has resulted in the waste of 540 lb. / 245.5 kg of perfectly good food. But it didn't. The completed, vetted and awarded Dip was, The Rock tweeted, "Delivered immediately to LA's Midnight Mission for the homeless. A good day."
It's not the first Guinness World Record Johnson has set – he also managed to take the most selfies in three minutes after racking up 105 photos with fans at the London premiere of his San Andreas movie in 2015. Now, there's one we probably don't need, for any reason.
~ Maggie J.