Recently, we took a brief look at the global picture vis à vis food price inflation. Among the most severely affected nations was the U.K., where soaring food prices have driven changes in food shopping habits…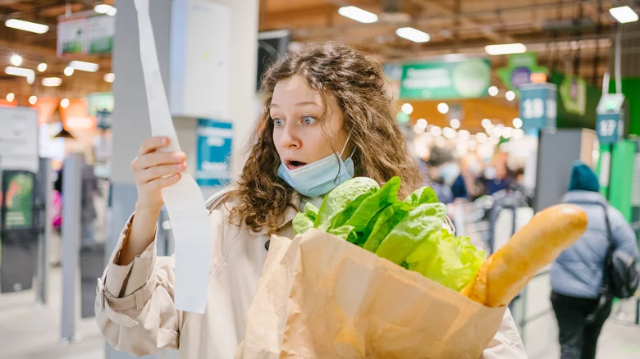 U.K. shoppers have made major shifts in their grocery
shopping habits as a result of soaring prices…
Food price increases and food shortages have put the U.K. government on a hotplate, and on notice over the past year.
A recent world-wide study of food price inflation revealed that the U.K. and the E.U. are leading food price inflation among Western nations with annual rates of 19.6 percent.
So it should come as no surprise that U.K. shoppers have resorted to some drastic measures to cope with the crisis.
What they're doing
A new survey commissioned b y the BBC from analytics firm Kantar revealed some shocking shifts…
Brits now shopping less often, buying more per trip
Whereas British families used to shop fairly frequently, buying food products and supplies as needed for the immediate coming few days, their number of monthly trips are down, since the COVID crisis.
"We still haven't got back to the shops like we used to," Fraser McKevitt, head of retail and consumer insight at Kantar, tells the BBC. "People are [continuing to work] from home a bit more, which cuts down the opportunities to shop."
Not splurging like during lockdown
Like most folks in 'well-to-do' Western countries, British grocery shoppers exhibited a tendency to splurge on some food items during the COVID lockdown. Junk food and alcohol sales peaked sharply during the spring of 2020.
Now, they've returned, largely, to buying only their usual basic grocery items, but they're paying more.
Shift to online shopping and procery delivery has slowed
The Kantar survey shows that online grocery shopping was used regularly by about 8 percent of Brits before the COVID crisis. During the lockdown, that number jumped to a peak of 15.4 percent in February, 2021. Now, it's subsided to an average of 11.7 percent.
Kantar's McKevitt attributes this shift to the fact that many older people who took up online shopping in lockdown have given it up.
"Those people have got time now to go out to shops and probably enjoy taking a trip out and going to see people."
Sales of House Brand and No-Name products up
Whereas British shoppers were fairly brand-loyal prior to the COVID and food price inflation crises, more are turning to off-brand, House Brand and No-Name products to save cash. Off-brand sales were up from 45 percent to 51 percent of total grocery purchases from 2005 to 2022.
Catherine Shuttleworth, founder of retail analysts Savvy Marketing, notes that supermarket chains have expanded their own-label product selections. The idea is to offer more-affordable alternatives to the big brands.
"Even shoppers who would have rejected own-label [as inferior] are now buying own label," Shuttleworth told BBC. "So it's not just people forced to do it, people who have a choice are also downtrading."
Discount supermarkets thriving
Understandably, with the the thawing attitude of brand-loyal shoppers toward house brand and no-name, and continuing price pressure, the discount grocery stores (in the U.K.; Aldi, Lidl and the like) have been experiencing a surge in popularity.
The Kantar survey showed that Sales at Aldi and Lidl soared by more than 23 percent year-on-year in the 12 weeks up to 14 May. New discount shoppers appear to be folks who use to frequent mainstream supermarkets exclusively, but now include a trip to a discounter now and then in their shopping routine.
Loyalty programs enjoy new popularity
Loyalty programs are nothing new to shoppers here in North America and other western realms. But the popularity of these points-based schemes – which often also qualify shoppers for special deals – has grown in response to a number factors.
Kantar says in-store specials accounted for a sturdy 45 percent of supermarket purchases in 2014. But today they've fallen back to just 15 percent.
Shoppers are, instead, turning to loyalty programs to earn discounts on products of their choosing. Shoppers can also benefit from occasional exclusive 'member' specials.
Like the discount supermarkets, it appears the loyalty programs are here to stay…
My take
I hope you read the foregoing carefully, thoughtfully. It could be the shape of things to come for us…
~ Maggie J.