We've posted here, in the past, about the phenomenon that is Huy Fong Sriracha Sauce. These guys almost single-handedly made Sriracha a household word in North America. Now they say they're facing a perfect storm (including actual weather issues) of threats to their business…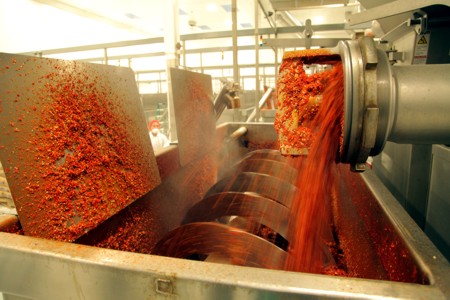 The big chili grinder on the factory floor at Huy Fong's
Irwindale, Cali. factory in better times. It now sits
still and silent due to a chili pepper crop failure.
Back in 2014, it was feared that the new Huy Fong Sriracha plant in Irwindale, Cali. would be forced to close after its neighbours lodged a major public nuisance complaint about the smell. The exhaust gas filtration system didn't work as hoped, and it took several weeks to solve the problem. But solve it they did. The plant didn't have to shut down and the complaint went away.
Now, Huy Fong faces an even more implacable foe: Bad weather. Historic droughts and soaring temperatures that have challenged California's agriculture sector for several years in a row, now, plus what the company simply calls, 'spiralling events'. The story is the same in New Mexico and Mexico, whence Huy Fong also sources peppers.
"We are still endeavoring to resolve this issue that has been caused by several spiraling events, including unexpected crop failure from the spring chili harvest," Huy Fong officials said in a statement. "We hope for a fruitful fall season and thank our customers for their patience and continued support during this difficult time."
Ahem…
Okay. We understand that some folks – arch fans and those addicted to Sriracha (i.e.- the guys who squirt it on their eggs in the morning) – are going to panic at the thought of a sauce drought. And when people panic, there is often a rush on the product and hoarding.
Huy Fong has confirmed that it will have to suspend shipments of all its products over the summer, in anticipation of a successful fall pepper crop.
And customers are already reacting as predicted. Bald spots are already appearing on store shelves. Restaurants are scurrying to find another source of suitable hot sauce. The problem is, Huy Fong makes the vast majority of the mass market sriracha, Sambal Olek and Chili Garlic sauces sold in North America. Other makers are either boutique operations or small, regional producers. And they, too are straining under the Chili Pepper shortage.
Increase imports?
Maybe, but if foreign growers did plant additional crops to meet the North American demand, those peppers would take 75 days to mature. Then delivery takes time, especially in this era of pandemic-related supply chain disruptions. Not to mention, hot pepper sauces need fermentation time before bottling. By the time increased production did arrive in North America, the Huy Fong machine would be back in high gear. On top of that, customers might be hesitant about trying unfamiliar brands.
My take
Looks like Huy Fong Sriracha, Sambal Olek and Chili Garlic sauce lovers will have to grin-and-bear-it through the summer drought. I personally am not a big consumer of those products, under any brand, but I feel for the dedicated fan base.
On the other hand… This might be a chance for them to widen their horizons, trying other spicy condiments and Asian prep traditions.
But I wouldn't count on it.
~ Maggie J.