Bet you sometimes wonder what other folks are searching for, recipe-wise, on the Internet. Well, Google has revealed its Top-Ten most-searched recipes of 2016 and there are some surprises among a surprising number of old, faithful comfort foods that always seem to satisfy…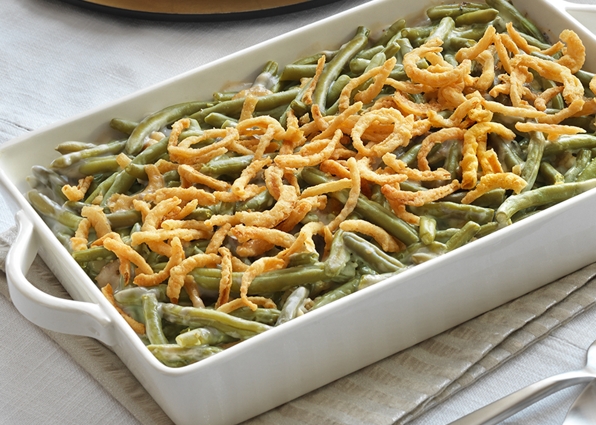 Green Bean Casserole – Number One on the 2016 Google recipe search list Top Ten.
The Campbell Soup  Kitchens actually invented the dish in 1955 as part of its
'recipe on the label' campaign. It quickly became a Holiday Staple!
Here are the Top Ten in order… (Drum roll, please!)
Green Bean Casserole
Roasted Brussels Sprouts
Hash Brown Casserole
Guacamole
Chicken Marsala
Chicken Tetrazzini
Snow Cream
Butter Cream Frosting
Pork Chops
Turkey Gravy
What the heck is Snow Cream?
Some (many?) of you will be asking, along with me, what Snow Cream is. Others will be laughing at us and labeling us unenlightened rubes. Anyway, so we don't look so dorky, I'll tell you: It's a dessert/treat made with Freshly-fallen Snow and Sweetened Condensed Milk. You can dress it up with what ever flavours you like, just don't water it down!
I recon that Snow Cream got on the Top-Ten list due to an overwhelming but short-duration search frenzy when the idea went viral…
Other observations…
Aside from the aforementioned Snow Cream and the Italian Chicken Entrées, I agree wholeheartedly with the mass of Google searchers in their search preferences.
Did a Kardashian mention Tetrazzini or order it at some high-class restaurant I could neither get into or afford? Was the Marsala served at a White House State Dinner? Did they feature it in some high-grossing movie that débuted this past year? Who knows. (If you know, write in and tell me!)
I just wish they'd stepped aside in favour of something more in line with the majority of the Top-Ten choices. I'd love to have seen Mac and Cheese, Scalloped Potatoes, Buttermilk Biscuits, Texas Chili, Mom's Meatloaf, Pot Roast, Lasagna, Chocolate chip Cookies… The list could go on, and on, into he next screen.
So, what do the actual Top-Ten say…
…About our preferences as a society?
First, I think it shows there's a tendency to follow the fads. Second, I think the presence of Green Bean Casserole, Brussels Sprouts and Hash Browns so high on the list indicates that we're still solidly entrenched in the old traditions passed down to us through the family lines. And I think that's a good thing. Actually, when you look at the old standbys on the list as a class, they represent the best of weekday and feast-day eating across Canada and the U.S. and, to a lesser degree, the UK and Western Europe.
A special tip of the hat to Guacamole, the iconic Tex-Mex staple that's invaded Northern menus and won our hearts! And it's heart-warming to see that home cooks still rely on classics such as Butter Cream Frosting to sweeten their lives…
~ Maggie J.