Subway has new Chicken Strip Subs and SONIC is bringing back its popular Garlic Butter Bun Dressing on a new Bacon Burger. And a host of other hand-snack purveyors are offering new, or refreshed treats for the coming holiday season… They've seen the future, and it is not, exactly, COVID-19 free…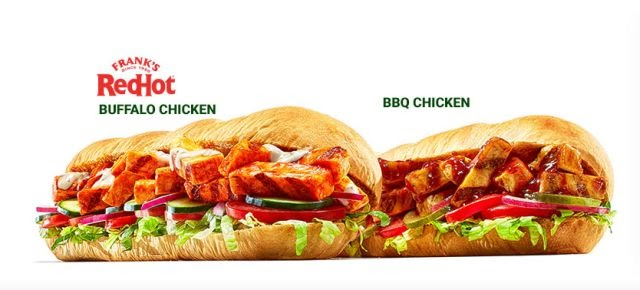 Two new Subway offerings: Buffalo Hot and BBQ Sweet Chicken
Strip Subs. You don't have to stick with the "default' or
'recommended' toppings if you don't want to…
Subway lights up new Buffalo Chicken Sub
Subway introduces a new Buffalo Chicken Sub made with Frank's Red Hot sauce, and a new BBQ Chicken Sub. The new Buffalo Chicken Sub features Chicken Strips tossed with Frank's Red Hot Sauce. The 'default' toppings include Lettuce, Tomatoes, Cucumbers, and Ranch Dressing on Italian Bread. The BBQ Chicken Sub starts with includes the same Chicken Strips plus the recommended toppings: Lettuce, Tomatoes, Pickles, and Red Onions on Italian Bread.
Sonic Brings Back Garlic Butter
Not just by itself, but in the limited-time Garlic Butter Bacon Burger. The Burger starts with a quarter-pound Beef Patty on a toasted oversize bun, which is coated with Garlic Butter. Then they stack on Bacon, American (Processed) Cheese, Mayo, and Grilled Onion. There's a junior sized version available for smaller appetites.
OREO offers updated Gingerbread Option
OREO – famous for its iconic Chocolate Wafer + plain Vanilla Stuffing Cookies – has become famous for launching new flavours helter skelter over the past few years. New this year for the Holidays is an updated Gingerbread version with new Gingerbread Wafer cookies filled with regular Vanilla Stuff. Previous versions of the seasonal Gingerbread variety featured regular Vanilla Wafer Cookies filled with Gingerbread-flavoured stuff. Look for 'em at all the usual OREO outlets as soon as Hallowe'en is over…
McDonald's refreshes Sweet Bakery Menu
McD's is introducing three new items to its McCafé Sweet Bakery List: an Apple Fritter; a Blueberry Muffin; and a Cinnamon Roll. Before these new additions, McD's Bakery menu had consisted of Cookies and Pies only. It's a big deal" This is the first time McD's has added Bakery items to its core menu in over eight years.
Krispy Kreme hoists Hallowe'en Doughnuts
KK's special offering for Hallowe'en 2020 is a selection of filled and ring doughnuts decorated to look like your fave Hallowe'en scary guys: Frankestein's Monster', The Wolfman, Count Dracula and… I'm just not sure who the other two designs are supposed to be; but they're a Chocolate iced ring with multi-coloured Sprinkles and a filled one with Orange Icing and Green and Chocolate Drizzles. Also, you can get second dozen Doughnuts for just a buck when you buy a dozen at the regular price today (Saturday) or any Saturday through the end of the month. Plus – get a free Doughnut on Hallowe'en when you show up in costume at any KK location…
Ben & Jerry's reprises Justice ReMix'd
It's a special limited time return, designed to promote Law and Order / Criminal Justice reform. Ben & Jerry's aims to promote criminal justice reform and voting by bringing back Justice ReMix'd ice cream in both pints and quarts and only at their Scoop Shops across the US. The limited-batch flavor features a mix of Cinnamon and Chocolate Ice Creams with pieces of Cinnamon Bun Dough and Fudge Brownies. As an effort to get out the vote next month. B&J's is offering a free upgrade to a Waffle Cone to customers who pledge to vote (doesn't matter for whom…)
And that's the skinny…
… On what's going to be making some of us fatter over the days, weeks and even months to come. Back at you next week in this space with a new edition of Fast Food Week.
~ Maggie J.