This week Fast Food Week showcases a selection of treats dominated mainly by ice cream-based menu items and old, standard favourites like Pizza and Fried Chicken (Doughnuts!). For a real change-up, how about hot pepper-dosed Breakfast cereal? Or Shakable Snickers Seasoning?…
Mexican Pizza returns triumphantly this fall as permanent Taco Bell menu item!
Taco Bell Mexican Pizza becomes permanent menu item
Starting September 15, the much-debated, much-loved Mexican Pizza will be back permanently on the Taco Bell menu. The MP was removed from the menu back in 2020, and hordes of fans rose up to complain. Finally, earlier this year, it came back. Now, The Bell says it's back to stay as soon as they can gear up to handle the anticipated demand. The experience has taught TB that it's good to listen to the people. Company officials say they may just bring back other bygone menu faves next year.
Little Caesar's goes Old World
LC's is rolling out a new 'gourmet' pie it calls the Old World Fanceroni Pepperoni. Imagine a pizza crust crisped with 100 slices of 'Old World style Pepperoni'…
Well, you don't have to! It'll be available Hot 'N Ready from 4 p.m. – to 8 p.m. at participating locations across the U.S. starting August 8, 2022. The idea of a 'crust crisped with cheese' really gets my imagination working…
… Taco Bell x Milk Bar = New Truffles
The Bell and the Bar are partnering on a new dessert treat: a Strawberry Bell Truffle. It's essentially a Milk Bar truffle composed of a sweet corn fudge centre, cloaked in Strawberry Chunk Cake and rolled in salty-sweet strawberry sweet corn crush studded with bits of Taco Bell corn tortilla. Available until August 16, or until supplies last.
General Mills heats up Cinnamon Crunch
As one reviewer says, "CinnaFuego Toast Crunch, [is] a wild cereal creation that combines sweet cinnamon and fierce spice to give taste buds an uppercut into the shadow realm."
Not sure how I feel about that. But… The market test will tell. Maybe more of a snack than breakfast. The stuff hits shelves for a limited time this coming Friday, August 12.
Snickers débuts new shakable 'Seasoning'
Snickers Shakers Seasoning Blend is now a thing. Lets fans dust their fave foods with their go-to chocolate, caramel and peanut flavor combo. The product launch follows similar products such as Cinnamon Toast Crunch Cinnadust Seasoning Blend and Twix Shakers Seasoning Blend. While you're at the store getting it, stock up on Vanilla Ice Cream!
Speaking of Ice Cream…
Baskin-Robbins has brought on new Frosted Strawberry Toaster Treat ice cream and a new Oreo 'n Cold Brew Blast for August. The Toaster Treat is, as one reviewer suggests, their take on a Strawberry Pop Tart: "toaster pastry-flavored ice cream with pastry pieces, strawberry jam swirls, and rainbow icing flecks." The Blast is built from cold brew coffee blended with Oreo 'n Cold Brew ice cream, topped with whipped cream, simple (clear sugar) syrup, and OREO cookie pieces.
Del Taco swirls up a Strawberry Shake
The Strawberry Piñata Shake starts with DT's regular Strawberry Shake and swirls in multi-coloured M&Ms.
It looks like a lot of fun! This summertime treat is around for or a limited time only.
Sprite changes signature identity
Sprite is easily identifiable by its green plastic bottle. But that's changing. In an effort to be more easily recyclable, the brand is changing to a clear bottle that's more widely acceptable to recyclers. The new bottle design will include a prominent 'Recycle Me' messaging supporting the brand's commitment to sustainability. Intl. Alert: Dunkins Korea launches Fried Chicken Doughnuts
Dunkins S. Korea bakes up Chicken Doughnuts
That right. Doughnuts that taste like fried Chicken. And come in the shape of a stylized chicken leg. The icing on the cake, literally is your choice of 2 dipping flavours: Kyochon Honey and Kyochon Red.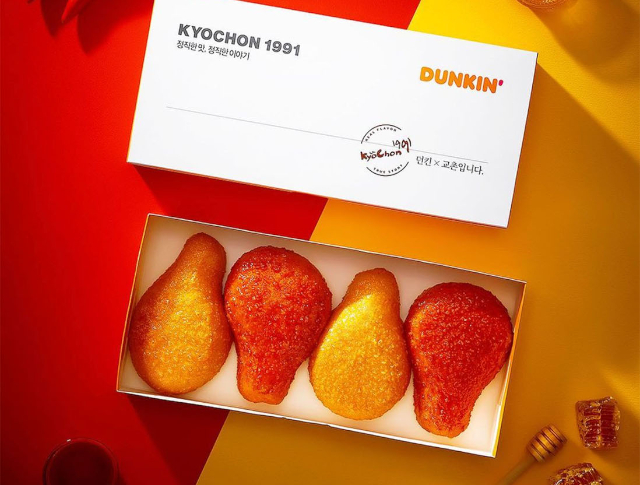 The former is dipped in honey sauce, the latter in Cheongyan Hot Pepper sweet-sour sauce. The sauces are courtesy of popular S. Korean chicken chain Kyochon.
And that's the skinny…
… On  what's going to be making some of s little fatter through the rest of the summer into fall. See you back here in 7 for the next update on the cream of the Fast Food News!
~ Maggie J.