We all wait breathlessly (well, some of us do) to see what French's has dreamed up to celebrate National Mustard Day. In the past they've proposed some pretty nutty crossovers in their relentless quest to promote their flagship product. This year is no exception…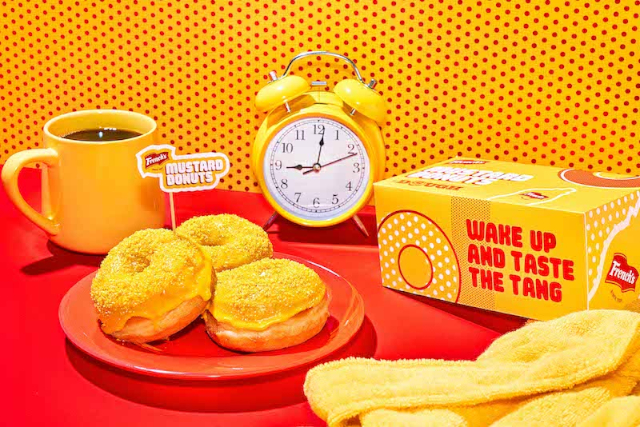 French's x Dough Donuts Mustard Donuts – for Mustard Day 2022.
Remember when French's collabed with Colorado Boutique brewery Oskar Blues on a Mustard Beer? And when they partnered with a small dairy on Mustard Ice Cream? Well, this year it's… Mustard Doughnuts.
'Dawn of a New Donut'
That's the headline on their special website celebrating what may be one of the strangest commercially produced pastries ever. French's and Dough Donuts of NYC have come together to produce a very limited run of special sweet-and-savoury Mustard doughnuts for Mustard Day.
The official website explains: "Bakers have crafted donuts with many flavors over the course of their delicious history, but there's just one thing they've never been glazed with: our presence. […] This National Mustard Day, we put a tangy twist on the breakfast classic with French's® Mustard Donuts. […] We took a break from blessing barbeques and headed to the bakery, mixing our tangy Classic Yellow® right into the dough of this sweet, breakfast treat. What'd we get? A flavorful doughnut sure to brighten your morning."
A classic yeast-raised doughnut spiked with mustard is topped with a sweet-and-savoury mustard sauce and garnished with a sprinkling of yellow mustard cake.
Only on Mustard Day
You can only get these exotic beauties on National Mustard day, tomorrow, Saturday August 6, 2022. They'll be at half a dozen locations in New York City and available for online ordering at the Dough Donuts website – while those very limited supplies last.
While you're at the website
Don't forget to check out the recipes supplied, for classic yeast-raised (below, left) and cake-style (below right) Mustard Doughnuts…
… You can make at home.
Whatever else you do…
Make sure you celebrate Mustard Day tomorrow, Saturday August 6. Whether with a Mustard Doughnut or a conventional squirt of the yellow stuff on a burger or dog. It's a summer tradition!
~ Maggie J.