Hola, amigos! Time to tackle one of life's little cooking mysteries… How to make your own Tortillas! And I mean both Wheat Flour and Corn Masa styles. You'll be ready for anything! And it's easier than you think…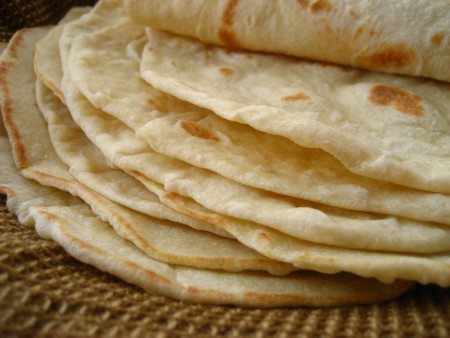 Fresh, hot Wheat Flour Tortillas… Yum!
Let's start with some issues that the two types of Tortillas share in common…
• You don't need a Tortilla press to make good Tortillas. But you do need a good rolling pin and some practice.
• You don't need to use Lard in your Corn Tortillas. Just some Corn Oil. Although Lard helps the Masa stick together and maintains the Tortillas' structural integrity during cooking.
• Do let your Corn Masa mixture rest before portioning out your Tortillas. It will handle better in the press and on the grill.
• You can cook off Tortillas in a dry frying pan or on a flat-top grill. I have a gadget called a Breakfast Nook, which is a 12 in. x 20 in. electric flat top with a thermostatic temperature control. I can fry off up to six 6 in. tortillas at a time on that thing and it sure does make the job go faster, especially when I'm making five or six dozen at a time for the business!
• You can freeze Tortillas tightly wrapped in convenient quantities for up to three months. Just reheat them in tinfoil just before serving.
Corn Masa Tortillas
Nothing could be easier, in this enlightened age. All you need is prepared White Corn Masa, which can be had at almost any grocery store with a Mexican Foods section. Comes in a 2 kg / 5 lb bag like flour, which is sort of is.
Just mix up the Masa with water and a little Shortening or Lard, and let it rest for 20 min. or so, wrapped in plastic wrap, to let the moisture pervade the dry corn. Then place a piece pf parchment paper or waxed paper on the counter top or cutting board, cut off a piece of Masa dough about the size of a gold ball and place it in the middle of the paper. Place a sheet of plastic wrap on top. Press down with the bottom of a dinner plate until the dough spreads out to a thin round shape about 6 in. / 15 cm across and about 1/16 in. / 1 mm thick. gently remove the plastic wrap, pick up the tortilla by the paper backing and place it face down on a flat top grill or a large, dry frying pan heated to 375 F. I use an old, reliable counter-top 'breakfast grill' coated with Teflon, which toasts my tortillas beautifully in just a minute or two.
Wheat Flour Tortillas
All you need for these is Bread Flour, Salt, Water, some Lard or Shortening, and a little Active Dry Yeast. The yeast is not part of the traditional recipe, but I find it makes the tortillas lighter and helps them stay flexible and tender longer.
Mix 2 cups Bread Flour with two tsps. Salt, two tsps. Sugar, and two tsps. Yeast granules and whisk together to distribute all ingredients evenly in the Flour. Add 1 tbsp. Lard and warm water (hot as it comes from the tap) a little at a time, until you have a nice, medium-stiff dough. Form the dough into a ball and cover with a moist kitchen towel in a warm place for half an hour to 45 min., until the dough has expanded to about twice its original volume.
Turn the dough out onto a floured board or counter top, cut off enough to make a 2 in / 5 cm diameter ball. Place the ball on the board, flour it generously, and roll out to a disc about 8 in. / 20 cm in diameter. flour it again on both sides and set aside. Want bigger tortillas? Use more dough and roll 'em out wider! When all the tortillas have been rolled, bake off as with the corn tortillas, on a dry pan or grill heated to 375 F.
Service and storage
Serve tortillas hot off the grill, or wrap in aluminum foil and heat in a cool oven (around 180 F) for a few minutes. You can freeze wheat tortillas in an air-tight zipper-type freezer bag for up to a month, but the soon you use them the better they'll be!
~ Maggie J.