This is one of my favourite Soups and a go-to when I have a houseful of guests coming. Makes the perfect first course for a Formal Family Feast! It takes a little time and patience, but the result is definitely worth it. And the main ingredient, Onions, are among the cheapest veggies you can buy!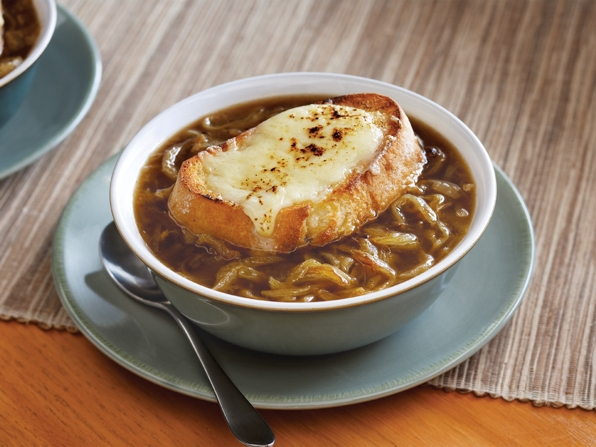 Beautiful, aromatic, yummy French Onion Soup…
The key to this classic is getting the Onions cooked just right. And there's a secret to that most home cooks don't know!
What you need…
6 cups / 1.5 L Sweet Onions, sliced thinly
3 tbsp. / 45 ml Butter
3 tbsp. / 45 ml Brown Sugar
1 tsp. / 5 ml Salt
2 tbsp. / 30 ml Corn Starch
8 cups / 2 L Beef Stock
1 cup Dry Red Wine (opt.)
2 tbsp. / 30 ml Sherry, Brandy or Madeira
For Garnish:
8 slices French Bread
2 cups Swiss or White Cheddar Cheese, grated
What you do…
Cook the Onions with the Butter and Salt in a large soup pot or small stock pot, over med low heat for about 20 minutes, until the onions become translucent and soft.
Add the Sugar and cook another 20-30 min., until the Onions are nicely glazed and caramelized.
Add the Beef Stock and raise the heat to Medium. When the soup starts to simmer, dissolve the Corn Starch with 1/3 cup / 75 ml of cold water in a small bowl or measuring cup and add to the soup, stirring a couple of minutes until the soup thickens. Add the Wine and let simmer for another 20-30 minutes, until the overall volume is reduced by 25 per cent.
While the soup simmers…
Butter the Bread slices, add a generous amount of Grated Cheese and toast under the broiler for a few minutes until the Cheese is melted and bubbly. Do not over-toast! There's a perilously thin line between Toasted and charred…
Check Soup for seasoning and add Salt and/or Pepper if needed.
Serve each guest 1 cup / 250 ml Soup in a deep bowl (a dedicated Onion Soup Bowl is de regueur) and top with a slice of the Cheese Toast.
You can scale this recipe up or down to suit your needs. I always make the full recipe so there's some left over for another day! Store in a tightly covered container in the fridge for up to a week.
~ Maggie J.