You've had 'em om just about every buffet table you've ever grazed. They seem to turn up everywhere – even at ethnic restaurants – as cold-table staples. You can dress them up as much as you like, or go Spartan, with just a perfect Egg White cup filled with a puff of light, golden, spicy Yolk…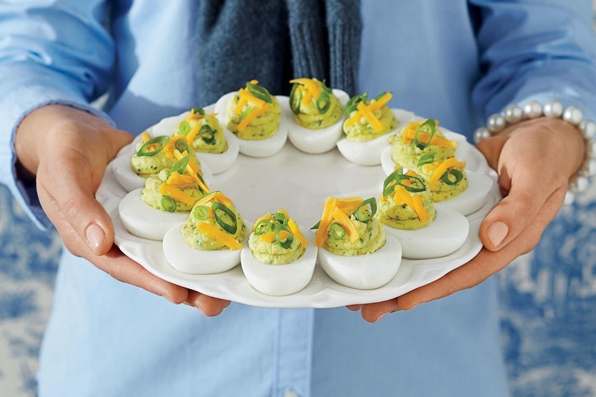 Fancy Deviled Eggs, with Pickle Relish mixed into the Yolk filling and a garnish of
Green Onion and slivered Cheddar Cheese… Yum!
Some of my earliest memories of the Eats-and-Treats table at grown-up parties involve sitting under the dining table (where the goodies were arrayed,) eating purloined Deviled Eggs. I couldn't get enough of them! Love at first bite.
The basics…
…Are pretty basic: You hard-boil your eggs, slice them in half lengthwise and pop out the Yolks. Set the Whites aside, covered in the fridge while you mix up the filling.
The basic filling consists of some Mayo, the yolks (crushed with a fork) and a good pinch of Dry Mustard Powder. If you like your Deviled Yolks brighter, as some Turmeric. It will complement the Mustard and jack up the colour by about a factor of five! Add salt and Pepper (I like White Pepper for this, for the presentation) and mix until creamy and smooth. You can just put all the ingredients in a blender and let 'er rip for a few seconds. it doesn't take long to achieve the desired texture and thickness. You might want to add the Mayo in several additions,adding only enough to make a nice smooth, yet stiff purée. You can spoon the mixture back into the Egg White cups or make it a festive occasion by using a piping bag to plant a beautiful little rosette of filling right in the centre.
Garnishes and toppings…
The traditional garnish for your basic Deviled Egg is a sprinkle of Paprika. I almost always use this, along with some other flavours.
My neighbour Rick, who worships Deviled Eggs, says the most glorious version he ever saw was the aforementioned Basic Egg with a twist of Smoked Salmon on top. I'd ad a caper to that picture to balance the flavours. Some folks say you must use Ground Nutmeg as the principle garnish. Some like to sprinkle finely chopped Parsley on top of their Paprika.
You can also substitute Sour Cream for the Mayo in the Yolk Mixture or add a nice pinch of ground Cumin and Coriander instead of Mustard. The variations go on and on. I've even seen a Hallowe'en party Deviled Egg where the Yolk was dyed Green and topped with a Ham Rosette – à la Dr. Seuss! Then, there was the Cinco de Mayo version with finely diced Jalapeño Pepper in the Yolk Mix and a garnish of Cilantro…
No matter how you make them, Deviled Eggs are a universal Favourite. Experiment with your own flavours and textures, and make yours all the other cooks in your family want the recipe for!
~ Maggie J.