Mock Chicken Drumsticks or City Chicken is an old favourite from the Depression Days. It's easy to make and really flavourful. And it will go well with almost any starch or veggie side. As fancy as it looks, it takes only a few ingredients and preparation is fast and easy.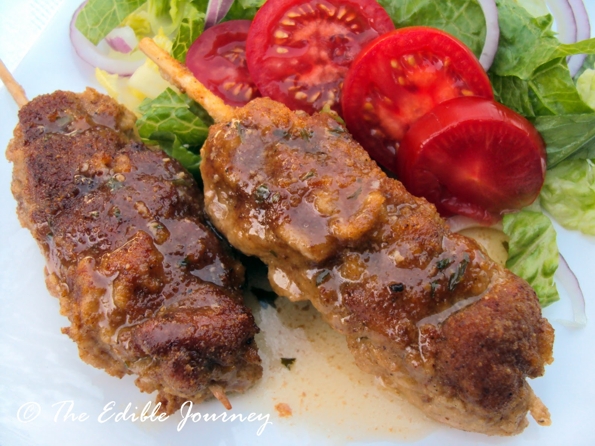 You can serve City Chicken with a side Salad or Summer Salads such as Potato or Egg.
A nice Thai Mango Salad also goes beautifully with this dish!

City Chicken comes from the days when people prized their chickens as a source of Eggs and you either had to be pretty well off or pretty desperate to eat one. On the other hand, Pork and Beef were readily available and actually cost less…
What you need…
1 lb. / 50 g Veal Steak or Loin Chop, cubed ¾ in. / 2 cm
1 lb. / 50 g Pork Loin Chops or Shoulder, cubed ¾ in. / 2 cm
½ cup / 125 ml Dry White Wine
1-2 cloves Garlic, finely chopped or pressed
1 large Pinch Thyme
1 large Pinch Rosemary, chopped
1 large Pinch Sage, chopped
1 cup / 250 ml Chicken Stock, room temperature
2 tbsp. /30 ml Butter or Frying Oil of your Choice
Salt and Pepper to taste
For Breading
½ cup / 125 ml Flour
1 Large Egg
1 cup / 250 ml Bread Crumbs
8 metal or Bamboo Skewers
What you do…
Preheat the oven to 325 F.
Place all the Meat Cubes in a large bowl and add the Wine, Garlic, Salt and Pepper and Spices. Toss to assure that all Meat Cubes are coated in the Wine Mixture. Cover and let stand in fridge for at least ½ hour before proceeding with the dish.
Set up your breading station. Place the Flour in a cereal bowl, Beaten Egg and one tbsp. / 15 ml Cold water in a second bowl, and bread crumbs in a third bowl.
Divide the Veal and Pork Cubes into four equal portions. Place Veal and Pork cubes on skewers, alternating. You should have the same number of cubes on each skewer.
Dredge the Skewers in the Flour, shaking off any excess. Then roll them in the Egg mixture. Finally, Dredge them in the Bread Crumbs and place aside, in the fridge, so the Breading can set. This is important.
Heat the Butter or oil to medium high in the bottom of a large frying pan pr braising pan. Brown the Skewers on all sides. Remove the Skewers for a minute and add the Chicken Stock to just cover the bottom. Use a spoon to deglaze the pan.
Place the Skewers back in the pan, making sure they are not touching. Cook covered 45 – 50 minutes until the Meat is tender. You can also place the covered pan in the oven at 350 F if you need your stove top burners for other dishes.
Serve over Rice, Noodles or with the Starch of your choice. Any vegetable side will go well with this great Entrée. Like the Fricassée, this dish also goes well with Roasted Asparagus or Roasted Corn as sides.
~ Maggie J.