Yes! Today is National Pie Day! This just proves that there's a 'National Day' for everyone and everything! Put away the Cookies, leave the Cup Cakes in the cupboard and embrace one of the oldest and most beloved Pastry traditions in the world. Sweet or savoury, it's time to celebrate…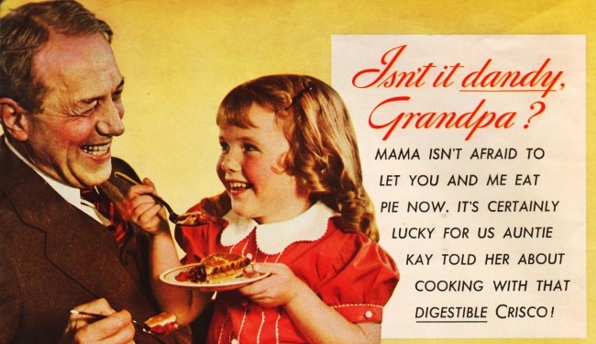 A vintage (1937) Crisco Shortening Ad. The American Pie Council was founded
in 1986 to coincide with Crisco's 75th anniversary.
'Pie' is anything wrapped in, cradled by or topped with Pastry. That leaves a lot of leeway for Pie lovers to find their niche. From Cornish Pasties to French Canadian Tourtiére to All-American Apple Pie (with Cheddar Cheese and Ice Cream, of course), Pie is a part of life for folks form most cultures the world over.
Whence the Pie?
A little research reveals that the fist recorded Pies were made in Egypt in the late Neolithic era, way before the Pharaohs. Most Middle Eastern cultures still have a Pie tradition of some sort as do virtually all European and British countries. Of course, North America its Pie traditions from the immigrants who brought them from Europe, Britain and the Middle East.
At first, most Pies contained a variety of ingredients, not just one thing like today's popular single-fruit concoctions, and most were savoury, not sweet, more like British Pot Pies and Cornish Pasties.
It's official!
Pie Day is a national celebration sponsored by The American Pie Council (APC), whose Mission Statement is as follows:
"The American Pie Council® (APC) is the only organization committed to preserving America's pie heritage and promoting American's love affair with pies. Designed to raise awareness, enjoyment and consumption of pies, the APC offers Amateur, Professional and Commercial Memberships."
In the furtherance of this mission, the APC hosts and sponsors National Pie Day every January 23. This year, APC's National Pie Championships will take place May 5-6 at the Rosen Centre Hotel in Orlando, Fl.
The APC was founded in 1986 to coincide with the 75th anniversary of Crisco Vegetable Shortening, a staple with Pastry makers for a century, now. You can sign up to receive the Pie Times newsletter and discover everything you ever wanted to know about the APC at its official website.
So, get out there and celebrate!
Make a family favourite Pie, like my Perfect Pumpkin Pie, or patronize your favourite Pie shop to pick up something really special. Just don't let the day go by without indulging in some sort of pastry!
~ Maggie J.