Here's a cautionary tale for all Wine Snobs – and their legions of wannbes – about the old value-for-money equation. Turns out that spending more on wine doesn't always get you more. Once again, a blind taste test separates the princely from he plonk, surprising professional palates…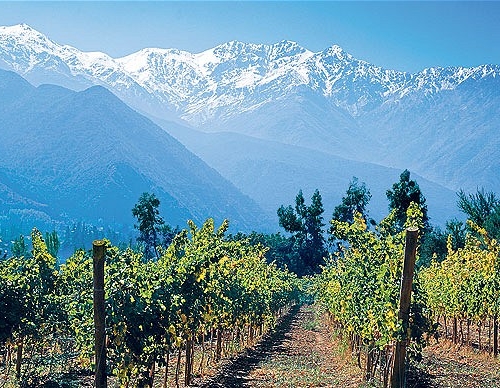 A typical vinyard in the central Valley of Chile.
A humble Red from Chile, La Moneda Reserva Malbec, took the annual Decanter World Wine Awards (DWWA) by storm, with a final analysis which included such gracious comments from judges as…
'absolute crowd pleaser'
'succulent juicy berries on the palate'
'excellent freshness'
To be fair, the Malbec took the 'under (US)$20' category, which is the one that interests most of us who can't afford the Grand Crus and so on. Hola! But I imagine the winner will be sold out pretty much in perpetuity after words of its victory at the tasting gets around. Just like that nice little neighbourhood bistro around the block from you, that became inaccessible due to the flood of intruding foodies after it was favourably reviewed in the paper. Sigh.
Don't fret!
There are lots of hidden gems in the under $20 category at your local Wine outlet. I've found several, over the years, in the Chilean section, come to think of it. And I can tell you that the South Americans – especially Chile and Argentina – are boldly proud of their robust Reds! So, go exploring at the Liquor Store today and discover a whole new, affordable world!
~ Maggie J.