This one will definitely be tagged under the category 'Leftover Rhapsody'… I have a small knot of Roast BeeF left over at the end of a leftover odyssey that goes back a week. First there was the dinner, then the sandwiches and, now, there will be Finale Beef Stew – the easiest you've ever made!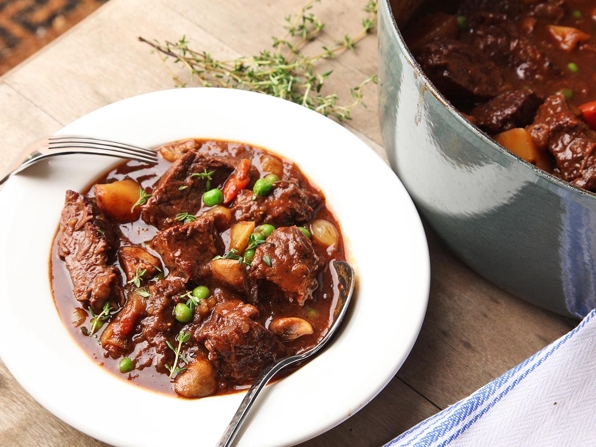 You can add anything you like to this easy stew… Mushrooms or Pearl Onions are traditional.
Add Cubed Potatoes if you don't plan to make Rice or Noodles!
This is not only the easiest Beef Stew you've ever made, it's also one of the more flavoursome. The secret is to go big on big flavours…
What you need…
2 cups / 500 ml lean Leftover Roast Beef, cubed 3/4 in. / 2 cm
2 cups / 500 ml Beef Stock (boxed, from the store is okay)
1/3 cup / 80 ml Frozen Corn Kernels
1/3 cup / 80 ml Frozen Green Peas
1/3 cup / 80 ml Fresh Carrot Coins, sliced 1/8 in / 0.5 cm
1/3 cup / 80 ml Onion, diced medium
1 clove Garlic, minced or pressed
1/2 tsp. / 2.5 ml Rosemary
1/2 tsp. / 2.5 ml Thyme
1 tsp. / 5 ml Worcestershire Sauce
1 Bay Leaf
1 tbsp. / 15 ml Corn Starch
Salt and Pepper to taste
What you do…
Place all ingredients except the Corn Starch in a medium size saucepan. Heat to boil. Then turn down to simmer.
Simmer for at least half an hour or as long as you like – until the roast beef is fall-apart tender. Don't forget to remove the Bay Leaf.
Make a slurry with the Corn starch and cold water and add to the Stew. Stir until it thickens, which should be pretty much instantly. Taste for seasoning and add more Salt and Pepper of necessary.
Serve over White Rice or Egg Noodles in a wide-brimmed soup bowl.
Serves two hungry diners.
Dig in!
There you go… Faster and easier than a Slow Cooker recipe. Use your imagination and apply this technique to leftover Chicken or Turkey! Just substitute Chicken Stock for the Beef Broth and use Poultry-friendly herbs and spices…
~ Maggie J.