The annual Lay's Potato Chip New Flavour Competition is over and the winner has been announced. In Canada, the contest received almost a million submissions – which were winnowed down to just four for actual development and production. The winner was based on your purchases…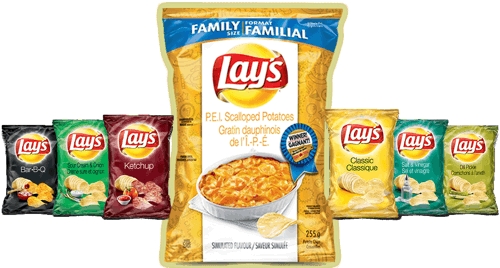 The Canadian Lay's Potato Chip Family – featuring new P.E.I. Scalloped Potato flavour!
Voting (with our wallets) ran from August 5 to September 30 this year. The winner was announced on November 20, just in time for the debut of the winner in a store near you.
And the winner is…
P.E.I. Scalloped Potato! Suggested by Jordan Cairns of Burlington, Ontario, the winner beat out three other finalists for the honour of joining the Lay's Potato Chip Family:
Cowboy BBQ Beans by Brenda Boghean of Calgary.
Butter Chicken on by Darryl Francispillai of Mississauga, Ont.
Montreal Smoked Meat by Zdravko Gunjevic of Waterloo, Ont., inspired by Quebec and named for that city's deli favourite.
All are pretty righteous Canadian Flavours, even the Butter Chicken, which celebrates our world-famous Cultural Mosaic.
Cairns, for his contribution, receives a prize of (C)$50,000 plus one percent of the actual sales of his flavour.
A parallel competition in the U.S. culminated in the crowning of travel agent Haily Green (left) as Queen of Chips for her nomination of Southern Biscuits and Gravy flavour. She got a million dollars for her trouble – or 1 per cent of actual sales of her Chips through July 6 of next year, whichever is greater…
Start thinking now about what you'll nominate next year as the 2016 Lay's Potato Chip Flavour!
~ Maggie J.