Summertime and the living is… Crazy! – at least for the Competitive Eating community. And the Fourth of July is the unofficial focus of championship activities in this (dubiously dubbed) 'sport'. We've got a roundup of what's been going on, gluttony-wise, and a report on 'the jewel in the crown'…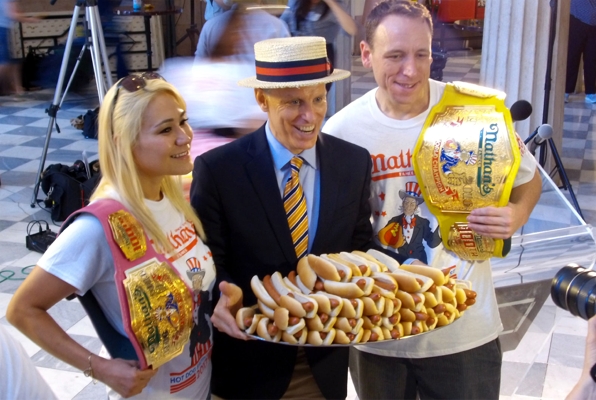 2016 Women's Champ Miki Sudo, MC George Shea and Men's Champ Joey Chestnut,
getting ready for the Nathan's Famous Hot Dog Eating Championship 2017…

Furious Whopper time…
Did you know that there's an even-bigger Burger available at Burger King than the Triple Whopper? It's not on the menu, but competitive eating icon Furious Pete recently decided to stretch the envelope (and his stomach) by ordering extra patties, and got them to serve him a 10-Pattie Whopper! He reportedly downed it with ease. I'm stuffed after a double 'Any Burger'. So why is Pete so fit-looking while I'm so… oversize?
Not-so-funny Seth Rogen…
Comedian Seth Rogen is well known to his family and associates as a fan of hot stuff. But he balked at First We Feast's 'Hot One's' spicy wing challenge this past week. There's a video to watch, in which Rogen tries to keep his comic cool with a mouthful of searing sauce. He's just nuts. So is actor and Rogen buddy Dominic Cooper, who also got burned by the challenge…
What's this about a jewel?
Yes! It can only be the annual Nathan's Original Hot Dog Eating Contest, from Coney Island. New York! The original Hot Dog – Nathan's – has sponsored this, the original professional competitive eating contest, for almost 100 years. Here's what the official Contest website has to say:
"Will the Mustard Belt stay firmly wrapped around Joey Chestnut's waist, or will it go to Matt Stonie or up-and-comer Carmen Cincotti? On the women's side: can ANYONE top Miki Sudo?

Anything can happen on the corner of Surf and Stillwell. And we can't wait to see what these eating legends bring to the table."
The festivities begin at 10:00 a.m. and the main event is at noon.
Show your support by grilling up a pile of Dogs and enjoy the holiday!
~ Maggie J.