Yes, really! And some of us think it's about time. But the Sriracha Sauce manufactured in a Los Angeles suburb has not been officially dinged for reasons you might think. Southern Cali residents have not turned against the idea or tradition of hot Pepper Sauce, just the smell of it cooking…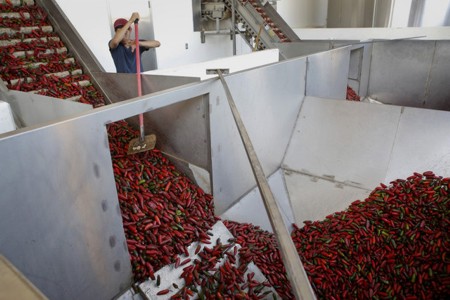 A worker guides freshly washed Hot peppers into the maw of a mammoth
grinder at the Huy Fong Foods Sriracha plant in Irwindale, CA.
What happens next has area residents up in arms…
Sriracha Hot Pepper Sauce is among the hottest in the world. It's originally from Thailand and has seeped into most of the hot pepper-loving countries of the world in recent years. It only stands to reason that folks would start making it nearer their home markets. And, after all, you couldn't expect little Thailand to supply a growing global demand all by itself!
But when a Sriracha factory opened up in Irwindale, CA, just outside L.A., residents opened up a campaign to have it shut down. They say the smell from the plant is unbearable, especially in peak pepper-grinding season.
A little History…
Huy Fong Foods, which owns the plant, has been making Sriracha since 1980 and apparently had no trouble with the neighbours at its former factory in equally-suburban Rosemead. In fact, the stuff is so popular it's spawned a fan page on Facebook.
But in Irwindale, residents started bombarding the City and South Coast Air Quality Management District (SCAQMD) authorities with complains shortly after the new plant opened last summer. The company has apparently been working with SCAQMD to improve its exhaust gasses filtration system since the first complaints came in, but Sriracha is apparently so pungent nothing they've tried yet has proven completely effective.
Fed up with what it saw as delays in remediating the problem, the City of Irwindale recently issued an official 'Public Nuisance' declaration against the plant, imposing a deadline by which the stench must be stemmed, once and for all.
A thumb in the eye…
Huy Fong's lawyer, John Tate, told The American Press the nuisance declaration is a case of "the city flexing its muscle and thumbing Huy Fong in the eye."
Irwindale City Attorney Fred Galante did not immediately return AP's phone calls.
Residents have adopted a wait-and-see stance.
We're still waiting for someone to declare too-hot Hot Pepper Sauces a public nuisance, period.
~ Maggie J.