I was scanning my Food News feeds this morning for something to Muse about and found no single topic that captured my curiosity. But then, I realized that wherever I went something referencing the current widespread Black awareness movement was high in the headlines…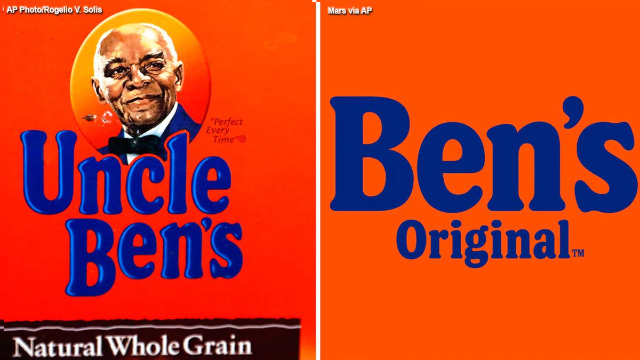 Ben's Brand: Old (left) vs. new (right)…
Activists have made their point!
I can't remember ever having been influenced as deeply and completely before, by any media awareness or publicity program, as I have been by the current BLM cultural revolution. The activists have made their point. Reflecting on the recent stampede by makers of all sorts of products to rebrand to avoid charges of Black stereotyping, I realized I have become hyper-aware of the term 'Black'; even reflexively responsive to it when it appears, even when the context of the media story or conversation of the moment isn't connected to the recent social controversy at all.
Blame it on Ben
My budding awareness began with a story about how Uncle Ben's has become one of the first major brands to not only promise a rebranding more respectful to the Black Fact by announcing that its familiar orange boxes will henceforth (or at least starting early next year) be labeled 'Ben's Original'. It seems like a small thing, but the familiar image of the character 'Uncle Ben' will be gone. And no illustration of any kind will be substituted for it.
Fiona Dawson, Global President of Mars Food, Multisales and Global Customers, said in a news release, the almost-generic 'Ben's Original' identity, "will be used to attempt to 'create a more inclusive future'. […] We understand the inequities that were associated with the name and face of the previous brand, and as we announced in June, we have committed to change."
More than just a name or face
One significant point to consider here is, activists have complained about Black stereotyping in product identities before – some Brands have been called into question repeatedly over the years – but this is the first time such discussions have resulted in wholesale change. And this is the first time I can remember that issues surrounding a brand identity have spread out to include corporate commitments to support other initiatives: Mars has also partnered with the National Urban League to create a scholarship fund for aspiring black chefs, and will work with other organizations to support underserved communities globally.
Perhaps most significantly, a host of brands including Aunt Jemima's, Mrs. Brown's and most others you could think of that have previously had identities that could possibly be questioned under the 'new normal' are headed in the same direction.
As many observers have asserted, the issue of racial inequity has been waiting for its time to be addressed – and after a long, hot summer of global racial unrest, the time appears to have arrived.
My personal issue
Maybe it's just me… But I scanned on from the Ben's rebrand story to others, one of which was headlined: "Walmart Promises An 'All-New Black Friday Experience'—Here's What To Expect", and before I even stopped to consider the context, I thought: "Oh. WalMart is going to rebrand Black Friday this year to be more respectful about current concerns surrounding racial stereotyping…"
Of course they're not! But my mind had raced on to cause-and-effect connections. Had someone complained that calling the longstanding 'holiday' 'Black' Friday implied that doing crazy stuff like lining up for hours to be first into the store on the day after Thanksgiving, and scrambling, fighting and even rioting were things which non-White folks were more prone to do than their White counterparts? If I'd stopped even a second to reflect, I'd have realized that was just nuts. But something had conditioned me to knee-jerk otherwise.
What was really going on…
It was not until I read on, further into the story, that I made the obvious connection: WalMart was simply extending its traditional savings event to several weeks surrounding the usual day to will start earlier than ever this year. It's an obvious reaction to the ongoing COVID-19 situation under which many shoppers won't want to risk close contact with others in the usual doors-open rush. WalMart also says it's noted its customs have indicated a growing preference for shopping online.
"The holidays are always a special time, and this year, we think the season will mean even more to our customers. As more of them turn to online shopping, we want to ensure we're staffed and ready to help deliver that special gift to their loved ones while continuing to fulfill our customer's everyday needs," Greg Smith, Executive Vice President for supply chain for Walmart U.S., said in a news release. "We're also proud to be able to continue to provide employment opportunities across the country when it's needed most."
The release goes on to say WalMart will hire an additional 20,000 associates in its e-commerce order fulfilment centres: "These seasonal positions […] follow the company's hiring of more than 500,000 new associates since March across its stores and supply chain locations to ensure the retailer could provide essential items to customers during the COVID-19 pandemic."
Final words…
My underlying point in all this – and the central reason for my Sunday Musings on the issue – is that I resent having been manipulated like I obviously have been over the 'BLM' identity and related issues. I was, in fact, a little frightened to realize that I was so conditioned by constant news coverage and images of crowds chanting and footage of activists repeating the BLM talking points ad infinitum that my ability to think of the word 'Black' in objective, balanced and reasonable terms.
I've been a journalist in one publishing medium or another for 45 years as of this coming year-end holiday season. Never before have I been affected by a social or political development like this – in fact, I was trained to be immune to this kind of brain washing! I share my musing on the issue with you as a warning not fall into the intellectual trap I did over 'Black'…
~ Maggie J.