You probably haven't heard of them unless you circulate in the realms of high finance and mega-investment. Holding company Roark Capital is buying Subway for a whopping $9 billion. But new ownership doesn't mean wholesale changes in the stores…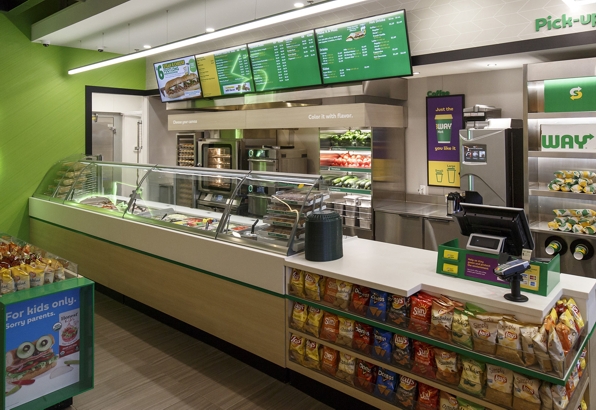 Subway's latest decor revamp crams even more products into the same small spaces..
At least, there's been no indication of plans to dramatically revamp Subway after it changes hands. And that's typical of the way Roark does business. It buys successful properties such as Arby's and Buffalo Wild Wings, and just lets them keep on doing their thing. If it ain't broke, don't fix it.
A surprise to some
Subway was started back in 1965 in Bridgeport, Connecticut by Peter Buck and Fred Deluca. It's not one of the 'golden age' Fast Food brands like White Castle and McDonald's. But it has grown to become the largest grab-and-go food seller on the planet with more than 44,000 outlets.
There was a time when Subway had a pretty dismal reputation, leaving a bad taste in consumers' mouths. I think that resulted from not listening to its customers and over-economising. There was a time I can distinctly recall when Subway sliced its meats and cheeses so thin, you could actually read the newspaper through them. All in the name of saving money and staying competitive.
Thereafter followed a number of embarrassing 'scandals', not the least of which was the lawsuit over 'footlongs' that didn't measure up. Tuna that wasn't really tuna. Chicken that wasn't all chicken. By 2017, Subway was closing as many as 1,000 unprofitable locations a year.
A heroic comeback
But Subway has pulled up its socks in recent years, getting back on the expansion trail. Starting in 2017, it revamped its store decor and within the past year, it has made some big changes to its menu, featuring pre-spec'd sandwiches designed to make ordering easier and faster.
The most recent 'upgrade' was the installation of meat slicers at most locations to fresh-slice the chain's deli meats on site.
So, Roark Capital is acquiring an energetic, going concern.
About Roarke…
Roark Capital currently owns 62 companies, 17 of which are restaurant brands. You'll recognise names such as Arby's, Buffalo Wild Wings, Baskin Robbins, Cinnabon, Carl's Jr. and Hardee's, Dunkin, and SONIC.
Wikipedia describes Roark as a 22-year-old company which focuses on leveraged buyout investments in middle-market companies, primarily in the franchise/multi-location, restaurant and food, health and wellness, and business services sectors. Its portfolio is currently worth $33 billion. The acquisition of Subway will push that5 up over $40 billion.
My take
I guess Subway's original owners were bound to cash out at some point. They must be ready to retire by now. That makes sense, since Subway went out actively looking for suitors. It didn't just sit back and wait for offers.
Subway fans will be happy that their fave Fast Food resto is now under the wing of a powerful parent who will ensure its future is as prosperous as its present.
~ Maggie J.