We first stepped out on the streets of India two weeks ago in this space. And quickly discovered there was so much to explore that we had to break our survey down into two manageable parts. Today, we'll wrap up India with a flurry of the familiar mixed with the exotic…
Momos: A universal Indian street food. Native to Bangladesh,
derived from a Chinese Dim Sum dumpling.
On our menu today
Jhal Muri
Spicy Puffed Rice. You start by toasting your choice of regional masala (spice blends) in oil, then add any or all of puffed rice, chopped peanuts, diced boiled potatoes, chanachur, chopped tomatoes, onions, cumin, coriander and other minor additions.
It takes only 15 seconds or so to heat the mixture in the hot pan. Serve immediately to ensure the rice stays crisp. On the street, you'll probably get it in a paper cone or bag.
Momos
Refined (white) flour dumplings in either turnover or twist format, filled with veggies, seafood, chicken or paneer (cottage cheese). It's no coincidence they look like Chinese Dim Sum; they come from Bangladesh which owes a lot of its cuilinary tradition to Chinese influence. They're steamed in the Chinese manner and served with as spicy dipping sauce alongside.
Vada Pav
A classic Potato Dumpling from Mumbai. AKA the 'Bombay Burger'. It's starch-on-starch but folks seem to love it. The vad part – the dumpling – is made from mashed potatoies and spices.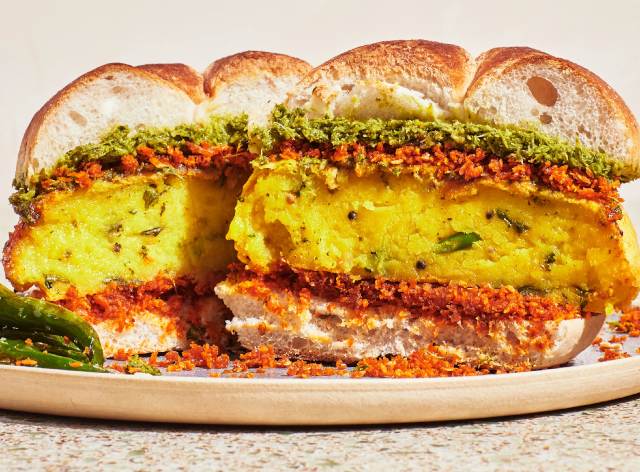 Then it's placed in a sliced pav, or bread bun. Served with one or more chutneys for ripping, and a grilled green chili pepper on the side. A national treasure.
Khar
According to goya.in: "In making khar, the peels of ripe bhim kol (bananas) are sun-dried in batches and burnt to collect the ashes. The next step is to filter pure water through the ashes overnight. As the water filters through, it becomes dark brown and acquires an astringent aroma." It's then used as the base for a thick, savoury gravy. Banana khar is, "used in cooking and to cure common ailments because of its antibacterial and antiseptic properties. When ailing with the common cold and cough, khar is consumed, as well as rubbed over the body to control body heat." It is most commonly eaten on steamed rice.
Poha – Jalebi
Poha, or flattened spiced rice with veggies is served with Jalebi, a crunchy deep-dried treat dipped in Rabri, a thick, sweet condensed milk dish…
…flavoured with cane sugar, spices and ground nuts. A bear to make, usually put together with pre-made Jalebi and Rabri. A meal in itself.
Kulfi Falooda Rabri
A northern India dessert combining Kuifi (Indian Ice Cream) Rabri (that thickened, sweet condensed milk cream mentioned above) and falooda (white wheat flour vermicelli). Flavoured with rose syrup, vermicelli, and sweet basil seeds. Fans insist you try this one whenever you see it on the menu.
Ice Gola
A beverage-slushie-popsicle that will add both bright colours and a quenchability quotient to your day! The name translates, roughly, to 'snowflake' in English.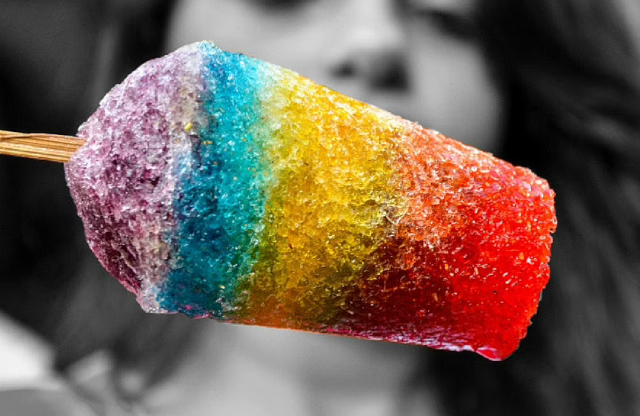 It's basically an Indian slushie but with a firmer texture and flavoured with fresh fruit syrups. It's a summer staple in India, where temperatures can soar to heights at which even the natives get restless.
Two bumper-crop installments…
… And we still haven't really scratched the surface of the Indian street food 'master menu'! As I hinted at the start of this mini series, Googling 'Indian street food' will reveal hundreds of posts offering capacious lists of dishes. Some even divide their bounties into regional sections to help give the search some sense of order. Take some time to give Indian street food the respect it deserves, and let yourself enjoy it at your leisure…
~ Maggie J.