I suppose it had to happen sooner or later. Someone – Pizza Hut, to be precise – has come out with a mass-market 'Cheesy Beef Poutine Pizza'. Especially for Canada, we presume. And reviews of the idea, as well as the pie itself, have been mixed, at best…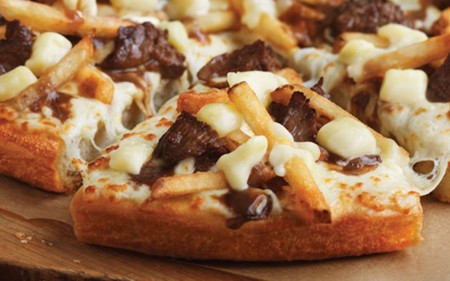 In its official news release, Pizza Hut hyped its new creation – and four other new pies – as 'unique new flavours … inspired by Canada's cultural diversity'. Other 'flavours' include Creamy Butter Chicken, Asian BBQ, Grilled Chicken Club and Smoky Maple Bacon.
The rationale for this significant menu change is summed up in this hyperbolic quote from the news release:
"Canadians are adventurous eaters who seek out a variety of tastes," says Beverley D'Cruz, Marketing Director, Pizza Hut Canada. "The Canadian landscape is changing and these new recipes are our way of celebrating Canada's diversity and multicultural outlook in a modern, exciting way ― and tapping into Canadian favourites. Pizza night will never be the same in Canada," says D'Cruz.
Well, the new offerings won't change my pizza night. Can't speak for others, though. I'm sure that some will stand up and shout 'Hooray!' for one or more of the new offerings.
The Ottawa Citizen's 'Keen Appetite' blog took a critical view, calling the Poutine Pizza and its siblings 'as foul as you might expect'. The blogger, who goes unnamed, quotes his colleague, Tony Lofaro (a general news reporter for the Citizen) as both a son of Napoli and a pizza afficionado:
"My Neapolitan brothers would be spinning in their Italian graves," Tony said, soon after the offending pies were delivered to the newsroom for today's lunch. "This is an affront!"
Other comments from newsroom staffers included, "…very disappointing…", "…a horror show…", and, "I'll bet this would appeal to a 15-year-old."
Nevertheless…
How many tens of thousands of people will order a 'Smoky Maple Bacon' or 'Asian BBQ' pizza at least once, just to see what it's like? Just because of all the chatter and hype? 'Hooray!' for viral marketing! This is perfect example of the old adage that 'there's no such thing as bad publicity'…
~ Maggie J.