Yes! There is a National Pizza Month and this is it! Take a moment – or, heck, a week – to celebrate the dish that millions turn to every day when they want a portable bite, need to slake a comfort food craving or just don't want to cook. Who among us doesn't love Italy's national treat?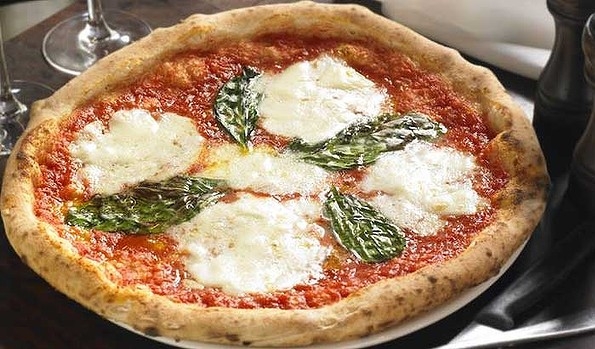 Classic Pizza Margarita. My namesake, and the model for all the pies that have come after it.
But there's much more to to Flat Bread with Toppings than that! Celebrate this month…
I've never met anyone, reared in the developed world or otherwise, who hadn't tried Pizza and/or didn't like it. There's a good reason for that. You can get it any way you like it, with whatever toppings you like and whatever base/sauce you want. And there are near-pizza flatbread dishes in a host of other places that also qualify, as far as I'm concerned. I've looked at some of these before and tried to decide whether they're really Pizza or not. But, now, I've decided to leave you to decide for yourself, Pizza preferences being as varied and personal as they are…
Get hands-on with Pizza Month!
If you haven't before, try making your own Pizza Crust. Or broaden your horizons by making other famous Flat Breads. That can lead, easily, to trying everything from Middle Eastern Za'atar Manakeesh or Japanese Okonomiyaki.There are recipes galore all over the culinary Web, for just about every kind of Flat Bread delight you can imagine. Or search on Wikipedia.
Tonight, I'm trying something new for me. Probably for anybody anywhere. I'm using leftover Turkey Dressing as the Crust for a Cheese Sauce-based Turkey Pizza with Tomato Slices, Sweet Onions, Red and Green Sweet Peppers, Mushrooms, Olives and Crispy Bacon Bits. I'll let you know how it works out…
~ Maggie J.