That's what I'm calling it: 'Nog Wars'. Multiple familiar food brands have already entered the silly sweepstakes to win your holiday beverage loyalty. And none of them appeals to me as strongly as the old original Egg Nog, in spite of the hype behind them…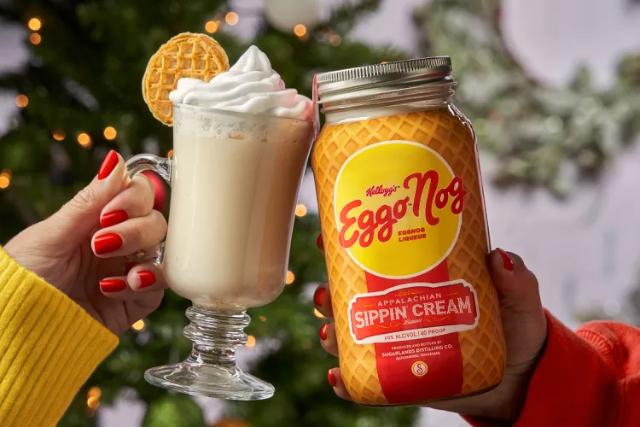 Kellogg's first to weigh in
I just chuckled when I first saw a food newswire post about Eggos Nog. It's billed on the label as 40 proof 'Appalachian Sippin' Cream'. The alcoholic component is Tennessee Whisky instead of Rum. And it comes in a Mason jar – the traditional container for sipping moonshine. The connection between the product and classic Egg Nog is the 'Egg' in Eggos. Tenuous at best. But a novel idea worthy of a go-round on the holiday novelty market.
"It's really heavy on deep flavors of churned cream, and cinnamon and nutmeg, which we feel pair really well with that perfectly toasted Eggo waffle," said Master Distiller Greg Eidam of Sugarlands Distillery in Gatlinburgh, Tenn., which is partnering with Kellogg's on the project.
Note: Eggo Nog is not intended as a breakfast-time eye-opener. It's officially considered an after-dinner holiday treat. It's available through the year-end holiday season at selected retailers.
Next up, Hellman's Mayo Nog
You read right.
Unlike Eggos Nog, Hellman's Real Mayonnaise does contain real eggs. And the company thinks its creamy texture makes it a natural partner for traditional Egg Nog ingredients.
The recipe calls for, "dark rum, apple brandy, whole milk, heavy cream, simple syrup, vanilla, nutmeg, and cinnamon." A token quarter cup of Mayo is also added to the blend before whipping it up in a blender.
The official product portrait from Hellman's suggests pouring Mayo Nog over your pancakes or waffles this holiday season instead of Maple Syrup. I don't know about that. But the stuff in the pic does have an enticing creamy colour and thick, syrupy texture.
Hellmann's admits the promo is intended to, "highlight the versatility of Hellmann's Mayonnaise and encourage everyone to get creative in the kitchen this holiday season." In other words, it's unashamedly intended to get you to buy more Hellman's Mayo this holiday season.
Even crazier, there's Ranch Nog
Hidden Valley Ranch Dressing has become as ubiquitous in the salad sphere as Kleenex is in the facial tissue universe. And the brand has become known for its marketing stunts, crossovers and collaborations.
Now Hidden Valley wants you to set aside traditional Egg Nog this holiday season in favour of its trademark Ranch Nog.
"[The recipe] marries the creamy, slightly sweet elements of eggnog with the savory, cool and herby flavors of ranch," Hidden Valley insists in its official release literature.
Here, the Hidden Valley modus operandi departs markedly from that of Eggos and Hellman's. They haven't published a recipe. In fact, their formula, developed in partnership with mixologists Whiskey and Rosemary, is available only in a special, limited-edition kit. It's available exclusively from the Hidden Valley Ranch Shop, while supplies last.
The kit contains: Two HVR RanchNog glasses (custom-etched 8.5-ounce Libbey Irish custom coffee mugs); a 2.5 oz. stainless steel jigger; and two Hidden Valley Original Ranch Salad Dressing & Seasoning Mix packets. That's enough to make two drinks. Customers who shell out (US)$50 for the kit will also get a recipe card disclosing the complete list of ingredients and procedure to mix up their Ranch Nogs.
My take
If I haven't already made myself perfectly clear, I don't endorse any of the Egg Nog pretenders profiled above. But I will admit to a certain curiosity about Eggos Nog.
My fundamental question for the brand managers involved its, why did you think you had to invade the Nog 'space' in the first place? I can see the Eggos brain trust making the connection between their product and the sweet, creamy flavour of classic Egg Nog. But Mayo and Ranch are fundamentally tart-tasting products. I'd never have considered partnering them with Booze, cream and vanilla.
Okay. Some readers will bring up the famous (infamous?) Mayo Chocolate Cake recipe that Hellman's first proposed years ago. The full cup of mayo prescribed by Hellman's in its official recipe was intended to boost the moisture in the cake and usually replaces the oil or other fat. But sour cream can also be used in place of mayo, and that makes a lot more sense to me. Some cake connoisseurs insist that Mayo leaves a faint metallic, tart taste in the finished cake.
Play with the Egg Nog pretenders this holiday season, if you wish. But I can't see trying any of them except as a foray into novelty-land, and a one-time-only expedition…
~ Maggie J.