Yesterday, we talked about the coming of a new emergency treatment for Celiac Disease sufferers. Today, we have news of something potentially even bigger: A key-fob sized portable tester that can identify a wide range of allergens and substances that cause food sensitivity reactions. And it should be inexpensive…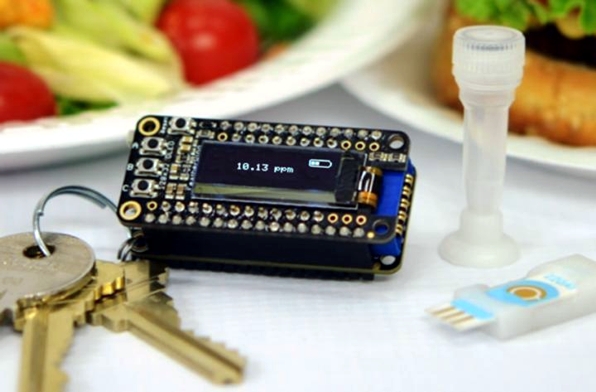 The proto-type iEat allergen tester… Works something like a diabetic's blood glucose tester…
Researchers at the Department of Systems Biology at Harvard Medical School have proto-typed a small device using what they call a nano magneto-chemical sensor to detect allergens and other potentially dangerous ingredients in prepared foods and restaurant dishes. Their report was published recently in the American Chemical Association Journal Nano.
The better news is, Harvard spokespeople say the tester should cost no more than (US)$40 when it reaches the market. It's already got a name: iEat.
Like a Blood Sugar meter…
iEat works something like the blood sugar meters used by diabetics. There's a disposable probe, onto which a small sample of the food in question is placed and a key-fob reader into which the user inserts the probe for reading. The device will detect very small amounts of allergens associated with Peanuts, Hazlenuts, What (Gluten), Milk and Eggs.
"When testing under restaurant conditions, we were able to detect hidden food antigens such as gluten within "gluten-free" food items." The researchers said, in the Nano report.
Can be adapted…
The iEat is optimized to detect the above-mentioned allergens. But the same technology can, theoretically, be adapted to detect other allergens and substances, opening the door for the development of nano-testers to fill pother health and food industry needs.
The iEat Team says the impact of the iEat tester, alone, will be broad: "The small size and rapid, simple testing of the iEAT system should help not only consumers but also other key stakeholders such as clinicians, food industries, and regulators to enhance food safety."
The iEat team and Harvard will license the technology to commercial manufacturers who will, in turn, sell their version of the iEat tester to you. No forecast of when the tester will appear on the market.
Another big scientific advance for diners with sensitivities!
~ Maggie J.