Yesterday, we told you about a Texas taqueria that has been running a Four-Pound Taco Challenge for almost 20 years. Today, we look west, to Anaheim, CA, where one of the city's foremost Food Trucks is touting it's most amazing Hot Dog creation ever: The Cardiac Arrest…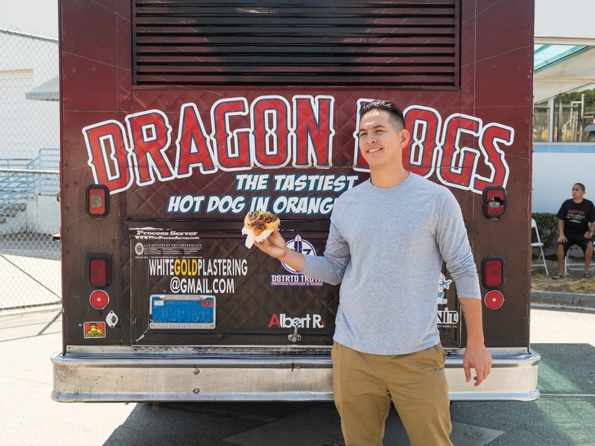 Matt (above) and Lori Miyashiro run the Dragon Dog and co-created the Cardiac Arrest.
The Dragon Dogs food truck specializes in crazy Dogs. it's trademark is the Dog so dressed that it's hard to find the Frank amidst the other food. But, now, it's decided to amplify its menu nuttiness to all-out stark raving madness by combining several of its menu faves in one big… Cardiac Arrest!
The Arrest is described as a maxed-out Pastrami Chili Cheese Dog. It's constructed not on a roll (no existing roll could hold all the ingredients) but on what appears to be a big Pita flatbread. On top of the jumbo Dog goes the obligatory Mustard and Relish. Then the craziness begins: Pile on Mayo, Hot Sauce, Grilled Onions, Chili, Cheese Sauce, Pastrami, Jalapenos, and Shredded Cheddar:
 The Dragon Dog, in cross section. It took me a few secs to actually
find the Frankfurter in all that … food.
Yikes! I wish they had weighed one so we could make a head-to head (flatbread-to-flatbread) comparison with yesterday's monster Taco.
You'll find the Dragon Dog truck just outside the park at all LA Angels home games and all over Orange County the rest of the time. To find out where it's going to be each day, check out its website.
~ Maggie J.