Seems that Fall is the season for Menu Madness. Or, at least, it seems to peak in the autumn, when we all get back to business, funny and otherwise. Now, we hear they have a Four-pound Taco Challenge at Chacho's Tacos in Corpus Christi, TX. It's been around a while and it's formidable…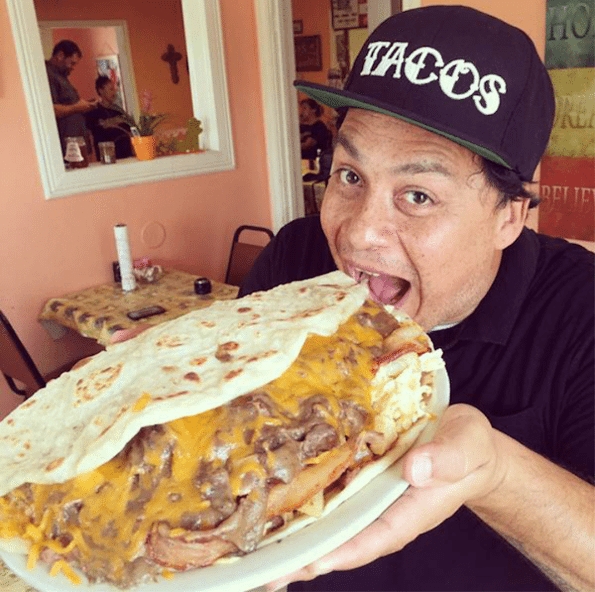 Chacho's owner Mary Gutierrez with the mammoth Four-Pounder. Are you game?
Back in 1998, Chacho's inaugurated a Four-Pound Taco Challenge. Eat it all in under ten minutes and you get a free shirt and a spot in the restaurant's hall of fame. Really. Is it worth it? You be the judge. Over the years, just five people have managed to meet the challenge. No wonder! The 'Taco' is built on a 14-in. / 35 cm flour tortilla. Inside, they pile Beans, Cheese, Carne Guisada, Egg, Potatoes, and Bacon. In case you're wondering, (and I know I was), Carne Guisada is Beef Chunks stewed in Tomatoes, Peppers and Garlic, with classic Tex Mex spices.
Is it a marketing stunt? Of course. Is it effective? Well, I and multitudes of other food bloggers are writing about it. Is it Fun? Apparently. While the management at Chacho's admits that five diners have beaten the challenge over the past 18 years, they don't say how many have tried and failed. and been relegated to the mists of History. But they aren't thinking about winding the program up anytime soon, either!
~ Maggie J.