I can't remember the last time McD's touted a major tune-up of their famous burgers. But they've just released a long list of tweaks currently being tested way out on the West Coast. What's the deal?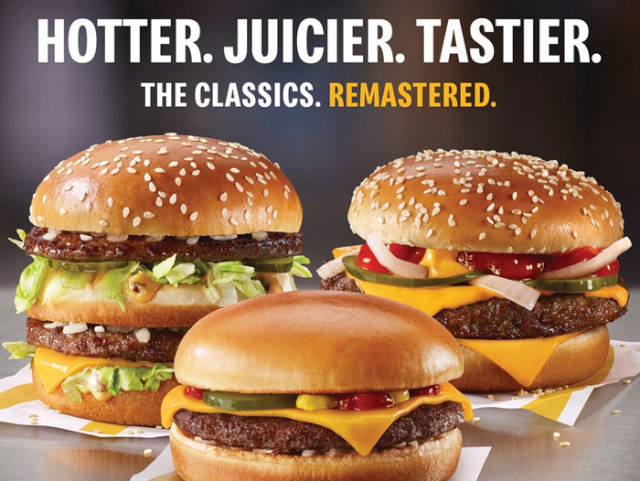 A fore-taste of the new McBurgers: They're already being sold across the chain in Canada!
McD's has obviously been working on this massive, cross-the-menu upgrade for some time. The seemingly small tweaks add up to something… bigger. McD's says, in its announcement that they've come up with, "Our best burgers ever."
What, exactly have they done?
Softer, pillowy buns that are freshly toasted to a golden brown .
Perfectly melted cheese that will make you want to savor every last bit off the wrapper.
Juicier, caramelized flavor from adding white onions to the patties while they're still on the grill.
Even more of everyone's favorite Big Mac sauce, bringing more tangy sweetness in every Big Mac bite.
And… While he's not actually on the menu, the venerable classic Hamburgular mascot is back. I haven't figured out the reason for that, yet. But knowing McDs. they have a well-thought-out, logical one. (See image, top of page.)
Broad-based facelift
It's a surprisingly broad-based facelift affecting the entire Burger Family: "Our chefs have been cooking up small but tasty improvements to the Big Mac sandwich, McDouble burger and our classic Cheeseburger, Double Cheeseburger and Hamburger."
Sharp-eyed readers will quickly deduce that the burger tune-up is just one aspect of a cross-the-business-model polish campaign. And McD's admits, it wants to make itself more like Starbuck's. The two have been in a competition to dominate the coffee market since McD's made a big deal about upgrading coffee and opening McCafé locations all across the map a few years ago.
The new McD's will segue, decor-wise, from burger joint to family living room. "It's a place where you can sit and see and be seen," says Sophia Galassi, vice president of restaurant development for Oak Brook, Ill.-based McDonald's. All 13,000 McDonald's restaurants in the United States will eventually get the McMakeover, half of them by the end of this year.
Targeting young adults
When Ray Kroc took over McD's and got into franchising, his aim was to standardise and simplify the McD's concept. He also wanted to 'kid-proof' the place and discourage rowdy teens from hanging out there. Now, channeling Starbuck's, McD's head office wants to do exactly the opposite.
"To continue the brand going forward, we want to win and need to win the hearts and minds of the young adults," Galassi explained. Meanwhile, outside. McD's streamlining its Drive-Thru experience  to accommodate more vehicles per hour and encourage folks on a mission to get in and out again as efficiently as possible. That's right in line with other burger chains, which are minimizing eat-in seating to focus on vehicle traffic and encourage order/pay using the mobile app.
My take
As usual, McDonald's us taking a lead on the latest big change-up in its niche. I don't think anyone expected the food tune-ups. But they do make sense in the context of wanting attract a slightly more mature clientele.
On the food tweaks: I'm sure they're the result of extensive focus testing and kitchen tinkering, aimed at those young adult palates. I personally relish the new onion strategy and the new bun strategy which point to a change-up to the kind of brioche-style roll several of McD's competitors have so successfully upgraded to.
That McD's would dare to fiddle with their classic Special Sauce, I can hardly believe. But they did.
Nevertheless…
Fiddling with both their food and their decor at the same time is a brave move. We'll see if it pays off – apparently starting around the end of this year, when the chain's transformation is substantially complete.
~ Maggie J.