Seems there's always some Chicken left over, whether you roast it yourself or get a rotisserie bird from the supermarket or deli. And there's always lots of Turkey left over from those family feasts we all enjoy so much. So… What do you do for an encore?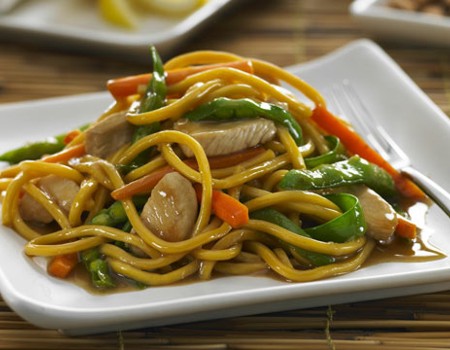 Here's beautiful Chicken Stirfry – Just one quick, easy way to turn leftover Chicken
into a whole new dining experience!
I have a whole trunkfull of recipes for leftover Chicken and Turkey. But they all start the same way: Separate the meat from the bones and stick the bones in a big pot. Cover them with cold water, throw in some carrot coins, coarsely chopped onion, and celery chunks. Bring to a boil, then turn down to a slow simmer and let 'er go, uncovered, for a couple of hours.
Meanwhile, decide what you're making from the Chicken Meat and the Chicken Broth you just put on to infuse. For simplicity, I'll refer to Chicken throughout the recipes that follow. Any of them will work just as well with Turkey.
Simple 'Second Chance' Soup
I like to make chicken soup in the Winter. I cut more Carrots, Onions and Celery in 1/2 in. (1 cm) chunks and add them to the broth after I've strained it through a fine wire-mesh sieve. Next comes Potato, also cut in 1/2 in. cubes, followed by herbs and spices of your choice. Let the soup simmer for another hour or so, until the Potatoes and Carrots are tender.
Variations include:
• Adding Tomato Juice or Sauce plus a half cup (dry) of the Rice of your choice.
• Going Asian with some Chinese Five spice powder or Thai Chili Paste and just a dab of Soy Sauce. Substitute Chinese steamed dumplings for the Potatoes.
Chicken Encore Stew
Proceed as with soup above, but add Corn Kernels and Green Peas (frozen is just fine) about half an hour before you plan to serve and bring back to a spirited simmer. Add a Butter/Flour Roux or a Flour/Water Slurry stirring well to ensure the thickener is uniformly distributed throughout the stew and to discourage lumps. Add the thickener a little at a time until your stew reaches the thickness you want. It's entirely up to you.
Chicken Encore Pot Pie
Prepare as for Stew, above, but place in a baking dish, or individual-serving ramekins, and top with your favourite Short Crust Pastry or pieces of store-bought Puff (in the freezer case, with the pre-made pie crusts). Bake until the crust is crispy and golden brown.
Classic Chicken Salad
You know how to make it… Make it more often!
Chicken Samosas
Just grind, finely chop, or chop in a food-processor left over chicken. Add Garlic, Ginger, Garam Masala Spice Blend, Turmeric, a pinch of Red Chili Power, Chopped Onions, and finely diced Potatoes. Sauté the ingredients together in a couple of tablespoons of Vegetable Oil until the Potatoes and Onions are tender. Spoon into Short Crust Pastry or Puff Pastry squares and turn them over diagonally, sealing with Egg Wash. Pierce the top of each turnover to let steam out while cooking. Brush with remaining Egg Wash for a beautiful glazed finish. Bake at 350-375 F until the pastry is flaky and golden. You can, alternatively, deep fry the turnovers like traditional Samosas. Don't overcook!
Eat them hot or cold, ideally with a Yoghurt-based dipping sauce.
Chicken Tacos/Burritos/Enchiladas/Tostadas
Use leftover chicken in your favourite Tex-Mex recipes! Remember that the Chicken is already fully cooked, so it can dry out if additional moisture is not applied.
And that's just the beginning!
Let your imagination (and your cravings) be your guide!
And enjoy those leftovers…
~ Maggie J.