Paula Deen, the self-proclaimed Queen of Southern Cuisine, has been dropped by the Food Network. She apparently made some racist and/or sexist remarks… But, "It's been a very long time…" And what older Southern person hasn't, at some time of their life? So much for being transparently honest.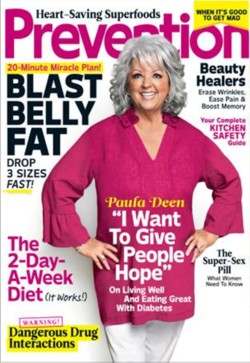 We have no information on the context in which she used the 'N' word. Or how long ago it actually was. As a once, current, and future journalist, I want to know the CONTEXT.
Why am I coming to Paula's defence? A matter of principle. People have been hitting her over the head about apparently contrary words and actions, following her Type-2 Diabetes diagnosis a year and a half ago. The queen of butter, sugar and starch has been fighting a tough, uphill battle since critics and do-gooders jumped on her for her former dietary excesses and for recommending them to others via her hit Food Network shows. She recently announced she's cleaned up her act, losing considerable weight and championing healthier eating in a new cookbook.
Well, she's being pilloried again, now, over a court deposition she gave a month in connection with a discrimination complaint by a former employee of a restaurant she co-owns in Savannah, GA. She told the truth under oath. She posted not one but two apologies on Facebook shortly after the deposition was made public last week. And, within minutes of that, she got her walking papers from The Food Network. The Food Network, it seems, doesn't care about context. Too bad.
But should they care? In this day and age of instant transmission of information around the globe, billions of 140-character opinions flying everywhere, on every issue anyone can think of – can The Food Network be forgiven a hasty judgement in a situation that could damage its own image and popularity in by association – in the wink of an electronic eye? I say The Food Network had options, but took the easiest way out. That's neither fair not compassionate. And it conveniently overlooks all that Paula and her presence have done for The Food Network over the years. Paula deserves better. And I wonder how many other Food Network watchers feel the same? It's time to rise up and e-mail the Food network with your opinions.
Bring back Paula!
~ Maggie J.
Postscript – Paula has bid a typically southern gracious goodbye to The Food Network. In a statement this weekend, she thanked FOOD for "11 great years" adding: "This would not have been possible without the Food Network. Thank you again. Love and best dishes to all of ya'll."
Now that's class! Food Network knee-jerkers take note…
~ M.