Wow! The fallout from Paula Deen's casual admission, in a statement released earlier this week, that she long ago used the 'N' word, just keeps coming. Seems nobody wants to stand by the old dear in her time of peril. Well… It's often been said that paranoia, like the Plague, is highly contagious!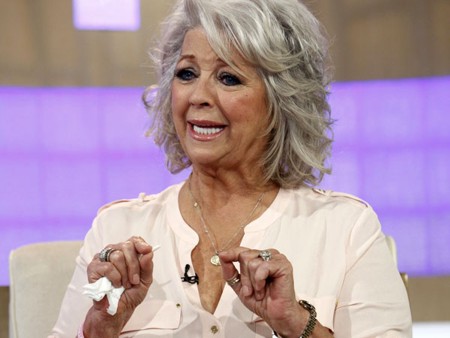 Paula Deen was in tears, apologizing publicly on NBC's Today Show this past
Wednesday, for her use of the 'N' word, "a long time ago."
Now, one of her biggest supporters, WalMart has kissed her off with a terse, two line statement issued yesterday. The longer of the two sentences reads:
"We are ending our relationship with Paula Deen Enterprises and we will not place new orders beyond those already committed."
I guess that means Paul's new 'Finishing Butters' won't be premiering soon at the world's largest retailer, after all.
Besides The Food Network and WalMart, several other sponsors have ditched the Queen of Southern Cuisine.
Novo Nordisk, a maker of diabetes control medications, has politely stepped back:
"Novo Nordisk and Paula Deen have mutually agreed to suspend our patient education activities for now, while she takes time to focus her attention where it is needed."
Smithfield Foods, makers of Deen-branded smoked and cured pork products, have also cut Paula loose, but with a sharper knife:
"Smithfield condemns the use of offensive and discriminatory language and behavior of any kind. Therefore, we are terminating our partnership with Paula Deen. Smithfield is determined to be an ethical food industry leader and it is important that our values and those of our spokespeople are properly aligned."
Cesar's Entertainment, which has (had?) Deen-themed restaurants in four of its casinos, also put the hit on her saying it had, "reached an agreement with Paula Deen Enterprises not to renew the business relationship."
Home Depot and Target Stores have also dropped her within the past 24 hours, with a resounding thud.
These sponsors all abandoned the ship before checking to see if it was really sinking. A survey of other merchants and mechandising activities indicates that the panic may have been premature…
On the up side
Sears, QVC and KMart stores are sitting back for the moment to see what's going happen.
And, on a high note, Celebrity Cruise Lines says interest in its annual Paula Deen Cruises has spiked since this week's scandal broke! They've already added an extra departure for next year.
She'll be just fine…
Now, don't rush to set up any Paula Deen Benefit Concerts or Survival Funds… She's doing just fine, thank you. Forbes magazine, in fact, puts her net worth at a cool $17 million, coming at fourth place on their list of Highest paid Chefs after Gordon Ramsay ($38 m), Rachael Ray ($24 m), and Wolfgang Puck ($20 m).
Time to retire graciously, perhaps? And write some more those cookbooks which seem to stay on the best-seller lists forever?
~ Maggie J.