In our house, birthday celebrants get to choose the menu for their natal day dinner. Sister Erin specified Rock Cornish Game Hens with traditional Mashed Potatoes, Pan Stuffing and Roasted Winter Vegetables. Thus, I embarked upon my first attempt at preparing Small 'Game' Fowl…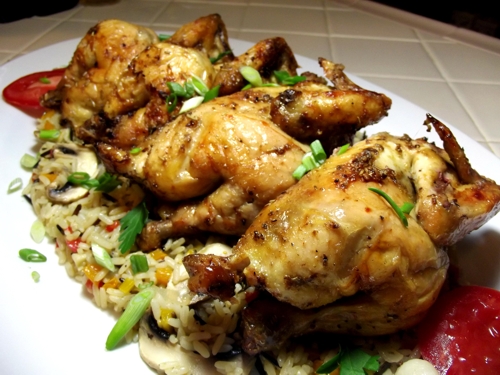 Rock Cornish Game Hens – Done the right way!
Yesterday was the birthday. Last evening was the dinner. And last night was my shame. Today, I petition the food Gods – and St. Julia (Child – author of Mastering The Art of French Cooking) in particular – for absolution of my culinary sins.
What happened?
So cautious was I of not overcooking the little poultry gems that I actually underestimated the roasting time for the Cornish Hens. And, in her zeal to help, dear Erin suggested I abandon my planned procedure for preparing the Hens in favour of one recommended by St. Irma (Rombauer, author of The Joy of Cooking). She says to place the hens in a roasting pan breast-up and start in an oven pre-heated to 450 F. Cook at that temp for 15 minutes, then turn down the heat to 375 F and continue roasting for another 30 minutes or until the hens are golden brown and their juices run clear.
Of course, I thought I knew better and decided to be on the safe side. I started the oven at 425 F and turned it down to 350 F after 15 minutes. A classic 'recipe for disaster'. After the prescribed 45 min., the birds were slightly under-cooked, not tender, and the skin was not brown and crackly like it's supposed to be.
I had to throw the delicate little creatures into the Microwave to finish cooking quickly. They were juicy, fully cooked (just) and the juices ran clear. But they were still NOT tender and the skin was NOT crackly and they lacked the wonderful 'roasted' flavour that they're supposed to have.
Fortunately, the Dressing was a hit and the Pommes de Terre Purées and Veggies were good. But that didn't save the dinner.
So… What now?
We have quite a bit of Cornish Game Hen left over. We actually only carved one of the three I prepared for sinner – er, dinner – last night. I'm planning to stick the other two under the broiler (at about 425 F) for 10 to 20 minutes to reheat them and try one last time to achieve that crackly skin and real 'roasted' flavour. Alas, conventional wisdom states that one never re-cooks meat after cooking it the first time. But I think I have a chance at culinary redemption.
Tonight is our regular weekly Tuesday Dumpling Fest. We celebrate the great Chinese tradition of Dim Sum on an odd day of the week – Sunday is de rigueur – but it works for us. So, tomorrow, I'll attempt Cornish Hens MK II. I'll let you know how it turns out…
Oh, yes…
It would probably also be wise, when attempting a given culinary feat for the first time, to delay cracking open the celebratory libations until it's time to sit down for the meal…
~ Maggie J.