It's Hallowe'en day 2020 and the big question is, how many neighbourhoods will be doing Trick or Treat tonight, and how many will be dark? One way or the other, the Fast Food and Snacks World continues to operate – as best it can under COVID-19 rules –  starting to ramp up for the Holidays…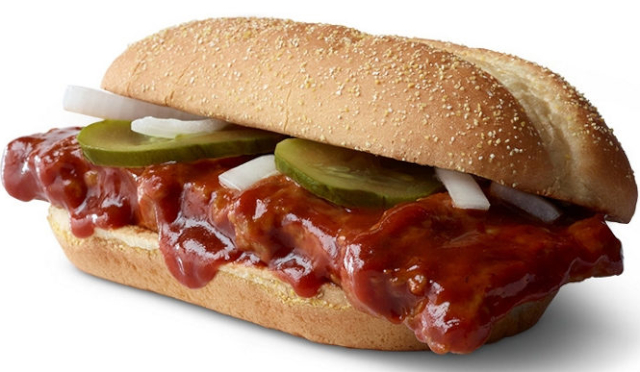 The (in)famous McDonald's McRib BBQ Sandwich. You either love it or hate it…
Hallowe'en darker and spookier than usual…
In many places across North America, the usual large-gathering Hallowe'en parties and neighbourhood Trick and Treating have been cancelled by official order – to help avoid triggering COVID-19 super-spreader events. Meanwhile, Candy and Salty Snacks sales are down and family isolation groups are making preparations a different kind of celebration. That will mean special Hallowe'en-themed treats… Hallowe'en is one of the most loved 'holidays' of the year for some. Don't let the pandemic take the spooky glimmer of the candle glow off of it for you!
Arby's revives Deep Fried Turkey for the Holidays
Until U.S. Thanksgiving, the special Bird will be featured in three limited time Sandwiches (see photo, top of page): the Deep Fried Turkey Club, the Market Fresh Cranberry Deep Fried Turkey Sandwich, and the Market Fresh Cranberry Deep Fried Turkey Wrap. Arby's first rolled out the Deep Fried Turkey in 20217 and it was a huge hit. This time around, I expect it to be available at least until New Year's.
Wendy's gives away Classic Chicken Sandwiches
Wendy's recently updated its Fried Chicken Sammy to be more like the one everybody has been copying, from Chick-Fil-A and Popeye's. Now they're offering a coupon for a free one (good until November 8) via the Wendy's App. The coupon can be used when ordering via the APP or at any participating store.
McDonald's brings back controversial McRib…
For the first time since 2012, McDonald's is bringing back its 'infamous' McRib Sandwich for a limited run. It's that iconic Boneless Rib Patty smothered in BBQ Sauce, topped simply with Slivered Onions and two Pickle Coins. Simple like the current round of Fried Chicken Sammys are. Simple like a fox… The McRib will be available starting December 2 for an unspecified period of time, at selected locations in regions where folks traditionally love it.
… Gives out free pastries with Coffee Purchase
McD's will be giving out a free pastry with each purchase of a Hot or Iced Coffee from November 3 through 9. It's a promo for the resto's three new pastries: Apple Fritters, Blueberry Muffins and Cinnamon Rolls. The only catch – if you can even call it one – is that you must place your Coffee Order via the McD's mobile app. At participating locations.
Krispy Kreme gives out free Doughnuts
KK in the U.S. is going to give out a free Original Plain Glazed Doughnuts to anyone who stops by on November 3, as an incentive to make sure its customers get out and vote in the crucial, coming general election. They'll also give out free 'I Voted' stickers to those who want them. I take it they're going to just take your word for it, that you voted. And wear your sticker proudly.
Canada Dry settles 'Ginger' lawsuit in Canada
Canada Dry Motts Inc. (the Canadian parent company) has agreed to pay a British Columbia man (C)$2,000,000, after the plaintiff complained he had been misled by advertising that suggested Canadian Dry Ginger Ale had medicinal benefits, since it was 'made with real Ginger'. Complainant Victor Cardoso said there was no 'real Ginger' in the product. But the company proved there was a small amount – just enough to protect itself legally from claims like Cardoso's. A class action suit over the same issue is still in process in the U.S.
And that's the skinny…
… On what's going to be making some of us fatter over days, weeks and months to come. See you back here in 7 with the next edition of Fast Food Week!
~ Maggie J.