It now appears that some schools will attempt to re-open in September. But the long-term general COVID-19 forecast remains bleak. With no end to home-working and -schooling in sight, the snack makers are still grinding out new – some of it plum crazy – stuff full steam ahead…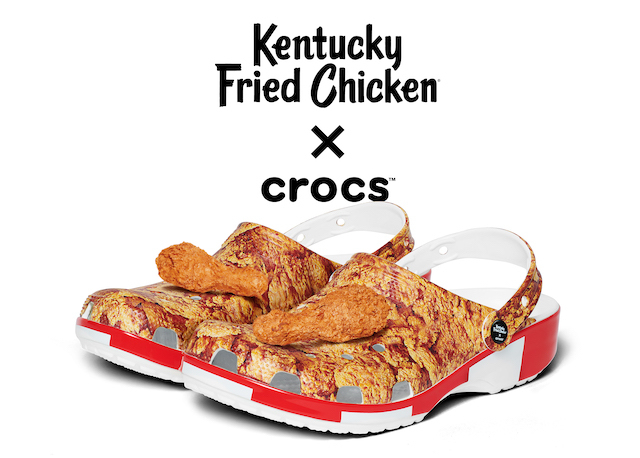 Professional Cooks swear by them : Croc's clogs with a twist: KFC Fried
Chicken Bucket motif with removable Chicken Leg shoe 'charms'.
Arby's catches new Fish Sammy
Arby's – the guys who boast, 'We've got the Meats!' – also have at least some of the 'Fish'… A new Beer Battered Fish Sandwich, to be precise. It starts with a toasted Brioche Bun and a Beer Battered Crispy Fried Cod Fillet. Then they add Lettuce, Tomato, Pickles, and Tartar Sauce. (Note: Arby's regular seasonal Crispy Fish Sammys are made with Pollack, which is cheaper than Cod.) The Beer Battered Cod special is available for a limited time only.
Grab a Panera's Duet and go
Panera Bread is offering a menu of limited time Duet deals for just (US)$5 each. Perfect for the soup and Sandwich fan on the go! Duets consist of half-portions of carefully selected Panera favourites including: Grilled Cheese & Creamy Tomato Soup; Caesar Salad & Chicken Noodle Soup; Tuna Sandwich & Ten Vegetable Soup; and Greek Salad & Creamy Tomato Soup. They're available for a limited time only, at participating Panera's locations – but you must order online.
Get free delivery from Denny's until 2021!
Just order via the Denny's On Demand online system at least once by August 9, to get wired in for fee delivery until; the end of this year. You'll get a free coupon via e-mail each week through next January 3, each valid for 7 days on any Denny's On Demand order totalling $10 or more. And you can still get $5 off a Build Your Own Cheeseburger Family Pack when you use the code 'FAMILYPACK' on your DOD Order. No firm end date has been announced on this deal, but it advertised as 'limited time time', nevertheless…
Coca Cola tries a collab with… Coffee!
Coke product development people are busy behind the scenes preparing some cold weather treats  to be released this coming winter. Three flavours of Coke-blended-with-Coffee blended Coke including: Dark Blend, Vanilla Coffee, and Caramel Coffee. The new beverages almost qualify as 'energy drinks', containing 69 mg of Caffeine per can compared to 34 mg for regular Coke. They'll be available starting this coming January 2021, in 12 oz. / 355 ml tall, slim cans. To receive updates on the project, sign up now at Coke.com/Coffee.
Sun Maid goes beyond the Raisins
Sun Maid snacks used to be exclusively associated with Sultana Raisins. But someone there recently said, "Who says we have to lock ourselves in that cage?" So they've launched a line of Snacks that focus more on classic 'Bites' than on Fruit. Especially notable for summer is new S'mores Bites, which include classic Graham Crackers, Marshmallows, Chocolate, and – yes – Raisins, just because. Other Bites varieties include: PB&J, Birthday Cake, and Banana Split – all with added Raisins. Get 'em online from Amazon for now; maybe later in stores.
NERDS Gummi Clusters are here
NERDS has combined tow proven winners in its new Gummi Clusters: Gummy blobs coated with stuck-on Nerds Candies. Classic NERDS are usually thrown in to the mouth by the handful, often ending up all over the place, just because they're small and light-weight, and don't fully cooperate with the eater. Clusters offer the best of two Candy forms and you'll probably want to entertain no more than two – maybe three – of those in your mouth at any given time. Available now, at the usual retail locations and supermarket Candy aisles.
MERCH Alert! – KFC Chicken Clogs now in General release
Remember those absolutely nutty KFC Fried Chicken Clogs sandals that premiered in an ultra-exclusive contest a few months back? They're now available generally, in limited numbers, of course, for (US)$ 59.99. Each pair features a removable pair of Jibbitz shoe charms – shaped like Fried Chicken Legs and scented accordingly. a portion of each purchase – $3 – goes to the KFC Foundation's REACH Educational Grant Program, which funds college scholarships for employees at participating KFC locations.
And that's the skinny…
… On what's probably going to be making some of us fatter over the coming days and weeks. See you back here in seven for the next edition of Fast Food Week!
~ Maggie J.