You can't help but be aware that American Thanksgiving is next week! So many holiday specials and seasonal offerings. But it's not all Turkey and Stuffing! Subway Canada débuts 15 new sammys, and DiGiorno unveils a special Thanksgiving-Dinner-on-a-crust Pizza!
DiGiorno Thanksgiving Pizza
Mains
DiGiorno unveils Thanksgiving Pizza
A novelty or a future necessity? Or what? Really not a bad idea for the young and convenience-driven generations. If they can't find a spot at some older relative's Turkey Feast table. According to a 2019 survey, "40 percent of Millennials (ages 23–38) would rather give up sex for a month than be responsible for cooking Thanksgiving dinner." Anyway…
DiGiorno's special limited-run pie features: turkey, gravy, sweet potatoes, green beans, cranberries, mozzarella and cheddar cheeses, and a traditional crispy onion topping — on a thick Detroit-style crust. Available only online at shopdigiorno.goodness.com, while supplies last.
Subway Canada stacks up 15 new sammys
Subway has let loose a new 'Series' featuring 15 new sandwiches in the Deli, Chicken, Steak and Veggie, and Italiano categories. Get started by trying: The Canuck Classic, The Great Canadian Club, or the Turkey Rancher.
Other notable newbies include: The Stampede Brisket, Steak 'N Egg, Italian Supremo, Kickin' Chicken, Teriyaki Crunch, and the new vegetarian Mozzarella Bella….
Arby's and Paramount+ serve up Good Burger 2
The long-awaited sequel to Good Burger (1997) is out November 22. And Paramount+ has teamed with Arby's on a special celebratory meal deal. The Good Burger 2 Meal features Arby's Deluxe Wagyu Steakhouse Burger, a Strawberry Shake and Fries. If you didn't catch Good Burger back in '97, it's about a a one-off local burger joint that has to fight a big chain that's opened a resto right across the street. There's also an exclusive, limited time Good Burger merch collection available now, only at ArbysShop.com.
Panda Express blasts out Blazing Bourbon Chicken
It's billed as a medium-hot dish comprised of: crispy-fried boneless chicken bites, onion and bell pepper, tossed in a spicy-sweet bourbon sauce as well as Hot Ones The Last Dab: Apollo hot sauce.
The catch is, it's only available until January 2, at 50 select Panda locations across the US. There's a list of the locations at the Panda Express website.
Chick-Fil-A reprises Chicken Tortilla Soup
If you haven't tried it… It combines features shredded boneless chicken breast, navy and black beans, onions, corn, bell peppers, celery and spices in a cream-based soup, topped with seasoned yellow and blue corn tortilla strips. (See photo, top of page.) It's around 'for winter 2023, at participating locations. If past experience is a guide, that means, until next March.
Sides
Taco Bell Grills up Nacho Fries…
They're Grilled Cheese Nacho Fries. And the debate is whether they're a main or a side. They start with fries and add a grilled blend of mozzarella, pepper jack, and cheddar cheese.
You also get bites of marinated grilled steak and optional jalapeños. All topped off with a chipotle nacho cheese sauce. So… Is it a side or a main?
… Breaks out Nacho Fries Lover's Pass
It's $10. But that's a good deal, because it gets you a free regular Nacho Fries for each of 30 consecutive days. Call it 'Son Of Taco Lover's Pass'. Alas, there are some tough conditions on the deal. It's only available via the Taco Bell mobile app, and only for Taco Bell Rewards members. And it's only good at participating locations.
Kraft pops out Singles' Souplings
They're little Chinese-style dumplings made specifically to take fuss (and sometimes mess) out of preparing a classic Grilled Cheese and Tomato Soup lunch. The little darlings are filled with tomato soup, Kraft Singles American (Processed) cheese, and toasted croutons.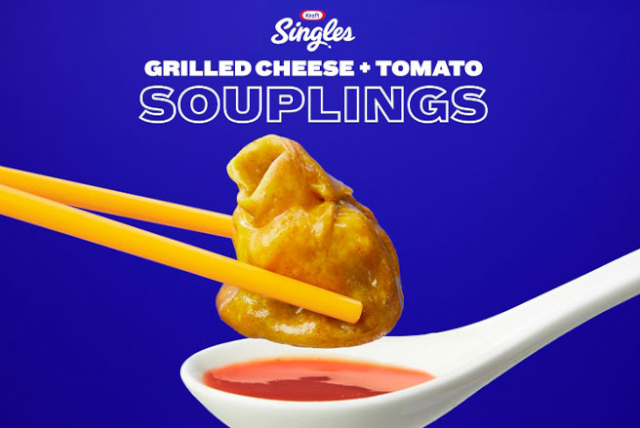 Thanks, but I'll continue to go with the authentic soup-and-sandwich combo. And risk a wardrobe disaster dipping my Grilled Cheese into my soup.
Snacks & Bevs
KitKat adds Chocolate Frosted Doughnut Flavour
It's about time KK embraced this classic flavour combo. Associate Kit Kat Brand Manager Alex Kuzior says, "The Kit Kat Chocolate Frosted Donut Flavored Bar is a sweet addition to our permanent flavor portfolio, […] reminiscent of a freshly baked donut." We'll see. That's a pretty big boast to fulfill. But, as Kuzior adds, "Who doesn't love a classic chocolate frosted donut?!"
Wendy's brings back Peppermint Frosty treats
The Peppermint Frosty is becoming a Holiday tradition at Wendy's. And this year, it's accompanied by a new Peppermint Frosty Cream Cold Brew.
Today and tomorrow (November 18-19) you can also claim a free Small Frosty or Frosty Cream Cold Brew when you order via the app. No purchase necessary.
7-Eleven resurrects Winter Wonderland Cocoa
And it's adding three more Holiday beverages in a new winter lineup. WW Cocoa is the colour of Red Velvet Cake and gets a Peppermint Flavour shot. Peppermint Bark Coffee boasts, "notes of sweet chocolate…" Caramel Macchiato is suffused with caramel. And there's also a Gingerbread Syrup – of which you can add a shot to any 7-Eleven bev. Available until December 31 at 7-Eleven, Speedway and Stripes.
Novelty Alerts!
KFC UK débuts Chicken with Stuffing
Okay. It's only in the UK – this year. But it's something new and, I say, noteworthy. The Stuffing Tower Burger features lettuce and mayo, an Original Recipe Filet…
… a slice of American (Processed) cheese, and a stuffing 'patty', crowned with Cranberry Sauce. Just how good (or not) is the Stuffing? One reviewer says it looks like a hockey puck…
And that's the skinny…
… On the crème de la crème of what's going to be making some us more 'opulent', now through the Holidays. See you back here in 7 for the next luxurious instalment of Fast Food Week!
~ Maggie J.