A special edition of Fast Food Week: The Editor lays her cards on the table about her attitude and policy towards Fast Food. And follows up with a rundown on a dozen or so enticing new developments in the quick service restaurant menusphere…
Once or twice a year, we get all stupid over a bucket of KFC: It won't kill you to eat
Fast Food once in a while. And it might just make you a happier person…
FROM THE EDITOR
I'm occasionally asked – or even taken to task – about this weekly feature post. "How can you preach healthy eating all week and then glorify junk food on the weekend?" critics complain.
The answer is deceptively simple: I'm only human.
I have no problem with the critics (and anyone else who feels the need) calling me a smarty-pants for that. But I invoke my humanity to demonstrate, and admit, my weaknesses and imperfections.
I was bullet-proof
When I was younger, I hung out at McDonald's with my friends like most everyone else my age. I ate the food, heedless of its 'junk' nature and the damage it might do me. I didn't give a second thought to how junk food might affect my aging process or my health in later life. I was bullet-proof.
Later, when I as out in the working world, I kowtowed to convenience, and ate what was easy. Cooking often didn't fit into my daily schedule. In the news business, in fact, one constantly struggles to maintain any kind of regular schedule. A brief but intense dalliance with Pizza during those short, hectic years, became a life-long love affair.
Working from home
When I segued to working for myself, in my own business, I was located at home. But looming deadliness often meant inconsistent meal times. Working late became a lifestyle. My partner and I often opted to 'order in' after an long, exhausting day. And I drank far too much coffee.
But it was at that point that I began to shift my eating habits in a healthier direction. 'Order in' might mean getting Shawarmas from the little Lebanese shop in a nearby strip mall. Or Indian takeout from the Punjabi place in the other strip mall. We eventually weaned ourselves completely off of Burgers and Fries. Our palates evolved.
An unexpected turn
When my life took an unexpected turn – my partner left – I made the momentous decision to go back to the classroom and train for a different career entirely. I landed up in Culinary School more on a whim that anything else. But it grew on me. And I started this blog.
Now sister Erin and I share a small house. (Her partner left, too.) Mom has moved into a long-term care facility where she can get the attention and treatment she needs. But food issues have taken on a much broader role in my life than just cooking for the two of us.
But…
We still 'splurge' on the occasional order of Chicken McNuggets, or a 'Special' from our go-to source, San Marino Pizza. No 'chain' resto pizza for us! Our pallets are now hopelessly too evolved. Only hand-tossed pies, crafted from dough and sauce made fresh daily. And once or twice a year, we get all stupid over a bucket of KFC.
I've consistently counselled healthy eating – apparently to the exclusion of junk. But I also recognise the need for an occasional 'treat'. The truth is, it won't kill you to eat Fast Food once in a while. And it might just make you a happier person. After all, you're only human.
***
Now: On with our regularly-scheduled Fast Food News rundown, already in progress…
Pizza Hut unveils new $7 Deal Lovers' Menu
The Hut is getting ready to do the Holidays in style with a new $7 Deal Lovers' Menu. It lets you choose from any of more than a dozen Hut faves for just $7 each. And it includes three new items: Roasted Garlic Cheese Sticks, Bacon Cheddar Cheese Sticks, and Chocolate Donut Bites. The best part? This is one Deal you don't have to order by app or internet to qualify for!
KFC brings back Wraps…
KFC is bringing back its popular wraps for a limited time. They débuted a year ago after McDonald's dropped its snack wraps, causing consternation among fans.
KFC's wraps come in 3 versions: The Mac & Cheese Wrap, The Spicy Slaw Chicken Wrap, and The Classic Chicken Wrap. All are rolled in soft flour tortillas. And you can any 2 for $5 while they're here…
… Adds Family Sized Brownies…
It's a first for KFC. They've gone all out for the holidays with a new Family-sized Chocolate Brownie, coming to all US KFC stores November 12. Yoiu can get it for $6 by itself. Or get a buck off when you order them with a $20 Fill Up Box or any Bucket meal.
… And revives Herb & Spice Yule Logs
A novelty, admittedly, these manufactured fireplace logs are infused with the Colonel's famous blend of 11 different herbs and spices. And they are designed to make your home smell like KFC for the holidays.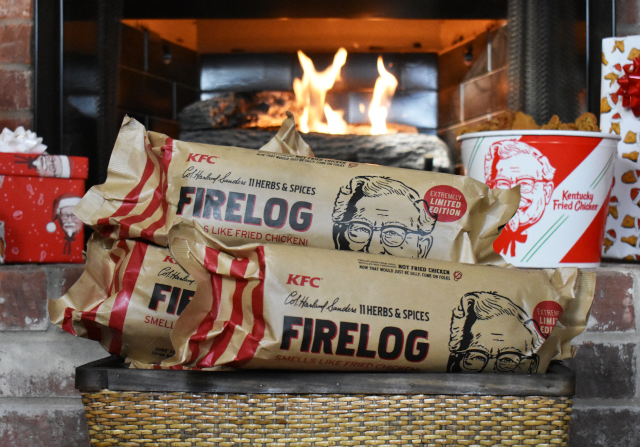 Alas, there is drastic division among reviewers, some of whom say it's great while others have characterized the aroma as 'disgusting'. On the up side, it's made entirely from recycled materials. Burns for 2.5 – 3 hours.
Arby's rolls out Mac 'N Cheese Balls
Other Fast Food chains have offered them before. And Arby's has a tough act to follow. But their new Mac 'N Cheese Balls may be game=changers. They're made with traditional elbow macaroni in a blend of 4 cheeses, breaded and deep fried to a perfect golden brown. These poppers come in 4-piece orders only, at participating locations, for a limited time only.
Frito Lay unveils new favours for fall…
They're coming on three fave Lays crunchies: Spicy Queso Funyuns, new Ruffles Flamin' Hot Queso, and returning Smartfood Doritos Nacho Cheese Flavored Popcorn.
The Funyuns are a permanent addition to that family. The other two flavours are here for a limited time only. Get 'em at all the usual outlets now.
… Intros new flavoured pretzels
Cheetos Pretzels are regular mini pretzels topped with Cheetos Cheetle (cheese powder). They come in Flamin' Hot and classic Cheddar. But count on more flavours to be added if these first two sell big…
Hostess sneaks out Chocolate Twinkies
Hostess, the snack cake kings, have quietly released a new all-Chocolate Twinkie. They feature Twinkie's signature sponge cake – in chocolate – with a chocolate cream filling.
No fanfare… But they appear to have been sneaking onto store shelves since last month. They're available exclusively at Walmart – for now, at least.
SONIC blasts out Rechargers
These new beverage selections are 'charged' with Red Bull energy drink. It's not a new concept: SONIC has previously mixed Red Bull into their warm-weather Slushies. They're available in three flavours: Dragon Fruit, Blood Orange, and Twisted Lime.
Coffee Mate pours Iced Coffee
By that, we mean, they're now shipping a complete beverage made with medium roast coffee and Coffee Mate Non-Dairy Creamer. Choose from French Vanilla or Caramel.
It's a first for the coffee Mate Brand. Until now they've limited their creations to whiteners (and other colours and flavours) to smooth your Java.
Dunkin pumps Salted Caramel
The doughnut folks who took a special interest in coffee have released a new flavoured creamer: Salted Caramel. It's a permanent addition to the Dunkin creamer line. But this one is designed to let you make an analogue of Dunkin's Salted Caramel Cold Brews at home.
And that's the skinny…
… On what's going to be making many of us a little 'thicker' over the coming days and weeks. See you back here in 7 for the next Calorie-loaded edition of Fast Food Week!
~ Maggie J.