Every now an then, a major player in the food biz commissions a survey to celebrate a corporate milestone. Others, like the UBER Eats Cravings Report, have become annual traditions. Today: Bob Evans' 75th B'Day family recipe poll…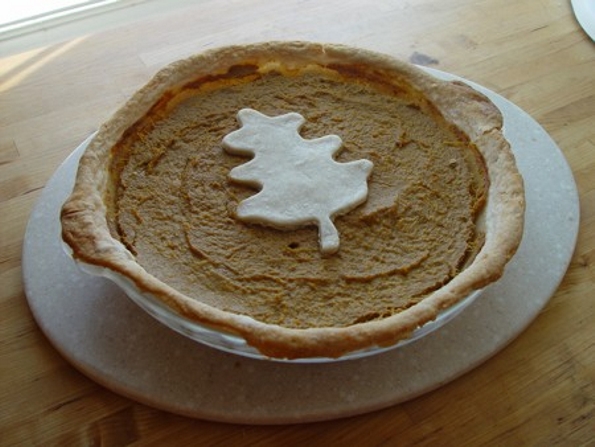 Mom's Perfect Pumpkin Pie. She made it for me. Now, I make it for her…
The Bob Evans' name has long been associated with sausages. In fact it was 75 years ago that Bob formulated his classic blend of herbs and spices. Today, the company that perpetuates his name sells millions of sausages every year.
As a way of celebrating its 75th birthday, Bob Evans Sausages commissioned a special survey to determine the State Of The Family Recipe in today's world. Some of the findings would seem pretty obvious to most home cooks. Others were unexpected.
"There is a strong sense of connection to the past that recipes tend to bring," the company sets the scene in a news release. "Feelings of joy, love, nostalgia and satisfaction are wrapped in the smells and tastes that trigger familial memories."
No argument there!
Key findings
The taste of time: Seventy-one percent of people have a family recipe that was handed down to them by their parents (54 percent), grandparents (40percent) or great-grandparents (24 percent).
Drool-worthy dishes: Two in three survey respondents have family recipes so good they believe they're worthy of bestselling cookbooks.
Print versus digital: Even in the digital age, many still prefer to store their family recipes on physical note cards (46 percent), in a physical recipe book (40 percent) or purely by memory (25 percent) compared to digital scanning (13 percent).
Generation gap: Millennials are especially keen to continue their family's heritage through cooking (80 percent), compared to Gen Z (67 percent), Gen X (75 percent) and baby boomers (76 percent). Gen X was found to be the most likely holder of family recipes (77 percent), followed by baby boomers (76 percent), millennials (68 percent) and Gen Z (53 percent).
Passed dishes and traditions: A third (37 percent) believe passing down family recipes will be more important for the next generation.
Making new memories: More than one in four (27 percent) have created their own recipes with the intention of starting their own family tradition of passing them down.
My take
Bravo, Bob Evans, for putting cherished family recipes in the limelight!
I'm a Boomer, and I guess I'm not typical. Ask some of my friends and they might tell you I'm downright atypical! My views about preserving family through food – especially by handing down favourite family recipes – are legendary among my friends and relatives.
For example… I'd be lost without my grandmother's Tea Biscuit recipe. I haven't served them to anyone yet who hasn't loved them. Ditto her traditional English Dumplings. It isn't proper a stew at our house unless it's topped with those light, fluffy, wonderfully sauce-absorbent puffs!
My mother's classic Apple and Pumpkin Pie recipes have been cornerstones of my family feast day meals for decades. At the heart of these, of course, is her scrumptious Short Pastry. Which also – literally – forms the foundation of many other dishes in my repertoire, from Butter Tarts to Beef Wellington.
Long before I ever thought about going to Culinary School, Mom taught me the secret of perfect, lump-free gravy. The list goes on and on…
My point? I firmly believe that recipes – and the stories behind them – are essential underpinnings of preserving family history. And it's family history that defines us; makes us who we are.
~ Maggie J.